February 2017 Show and Tell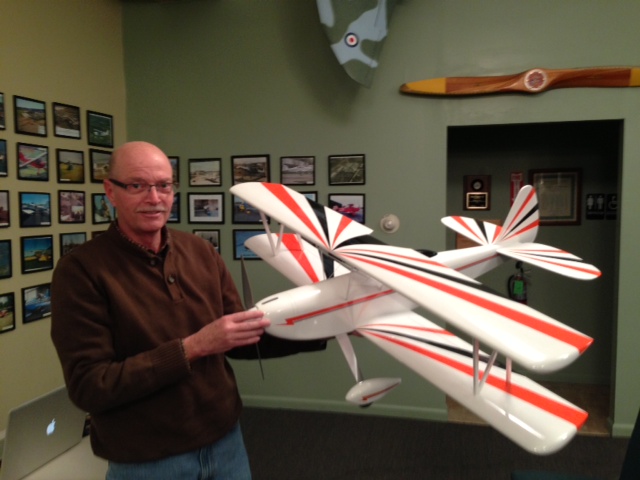 Denny Sumner shared his beautiful AcroStar biplane. He scratch built it from plans from a 1973 Radio Control Modeler (RCM) magazine.
He had the wing ribs and formers laser cut. It is excellently covered with Ultracote, except for the black trim, which is MonoKote.
He has a build thread on RC Groups.
Originally designed for a glow .60-size motor, his power system consists of a Cobra 4120/14 (710Kv) outrunner, Scorpion 70 Amp ESC and Castle Creations BEC. He plans to try both an APC 12x8E and 13x8E prop to see which works best.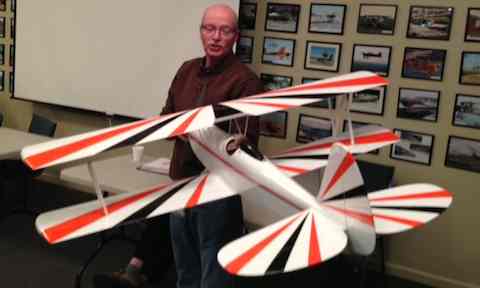 With a 4S 5300mAh LiPo battery, it weighs 5 pounds 14 ounces.
The bipe has 820 square inches of wing area for a wing loading of 16.51 ounces per square foot and a wing cube factor of 6.92.
An excellent project Denny, and excellently executed!
March 2017 Show and Tell
Ken Myers shared two Dollar Tree Foam Board (DTFB) planes that he had built.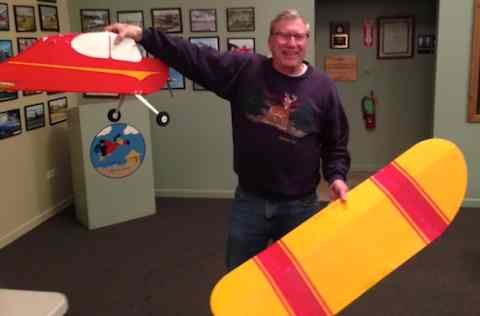 The first was a highly modified and enlarged FliteTest Old Fogey. His version is covered with TopFlite EconoKote and uses a Cobra C-2217/20, 72g, 960Kv outrunner with a 3S 1000mAh LiPo battery.

It required a lot of work to get it to fly well, but Ken now uses it as the introductory trainer for the club.

He noted that the FT Old Fogey, as designed and available on the FT Web site, has some serious flaws that lead to many folks not being able to fly it. The flaws include a vertical fin with not enough area and a rudder that is too large. The recommended CG is also incorrect.

There is more information about this plane at:
theampeer.org/ampeer/ampjun16/ampjun16.htm#OF
and
theampeer.org/ampeer/ampjul16/ampjul16.htm#FOGEY

Videos of why the originally designed Old Fogey is such a failure are at; theampeer.org/oldfogey-videos.html

The second plane he shared was his self-designed DTFB Ugly Stik. It uses the proportions of an Ugly Stik. It features a true Clark-Y airfoil. It flies well and was easy to build.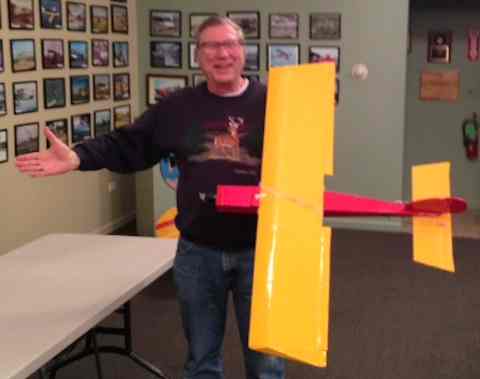 Airframe Specifications:
Wing area: approximately 340 sq.in.
Wing span: 40.87"
Ready to Fly weight: 23.6 oz. with 3S 1000mAh LiPo Battery*
Wing loading: 10 oz./sq.ft.
Wing Cube Loading Factor: 6.5 (typical park flyer value)
*Weight includes 1.75 ounces of lead in the nose
Power System:
Motor: Cobra C-2217/16 brushless outrunner
Prop: APC 9x4.5E thin electric
ESC: Castle Creations Thunderbird 54
Battery: (various brands) 3S 1000mAh LiPo Batteries
Maximum static amp draw: about 16 amps
Average in flight amp draw: about 8 amps
Flight time for typical aerobatic flight: 6.5 minutes
Radio System:
Tactic TTX650 6-channel transmitter
Tactic TR624 receiver
Servos: 4 Emax 12g ES08MAII Metal Gear Sub-Micro Servo
He brought the planes to encourage folks to build not conventional material planes for the Mid-Am's new event and award, which was noted in last month's Midwest RC Society Monitor.
Roger Wilfong shared two planes he's been working on while recovering from his hip surgery.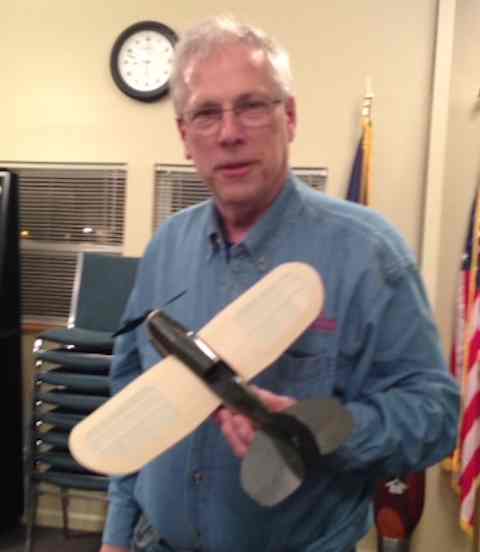 The Mountain Models Art Chester Jeep is built from a kit.
It has a wingspan or 16", wing area: 58 sq.in. and a flying weight of about 1.1 oz. It uses a 'brick' type radio system from an indoor ARF.
It still needs a bit more finishing, but it is mostly done.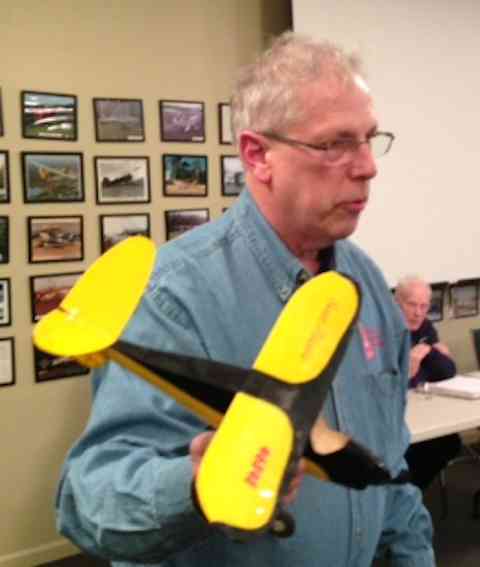 His Flying Models Sweet Patootie was built using plans from the June 2001 issue.
The vertical stabilizer is on the fuselage, below the "V" type horizontal stabilizer. Magnets hold on wing. It was originally designed as rubber powered model.
It also uses a 'brick' type radio system from an intoor ARF model.
He noted that it flies pretty well.
December 2017 Show and Tell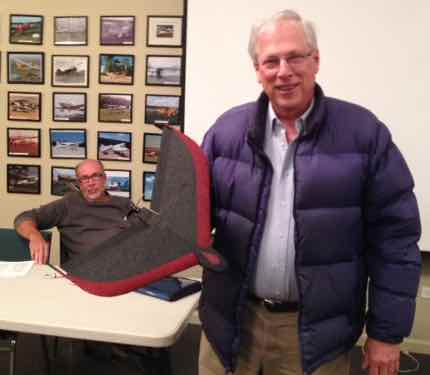 President elect, Roger Wilfong, shared his EPP Black Spirit flying wing from Banggood. The kit was very inexpensive at $16.50, shipped. It uses a quad motor and prop, which were also inexpensive. It flies very nicely and is quite easy to keep oriented with its downward facing tiplets. It does needs a lot of lead in the nose area to balance properly.
Return to Site Table of Contents