February 2018 Show and Tell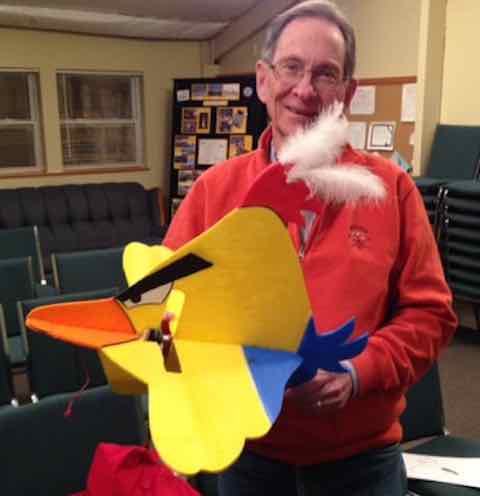 Mel Berent presented his scratch built Angry Bird. The airframe is constructed Model Plane Foam (MPF).
Mel purchased his MPF at FlightLine Hobby in Lake Orion.
The plans are found online.
He used a small 2600Kv outrunner, 3S LiPo battery and 6x4 prop. Being a 'prop through a hole' type design, it has quite a 'scream' and can certainly sound like an angry bird!
He noted that it only took about an hour to build it, but it took the better part of two hours to paint it.
He has been flying it at both the Ultimate Soccer Arenas, in Pontiac, and Legacy Center, in Brighton.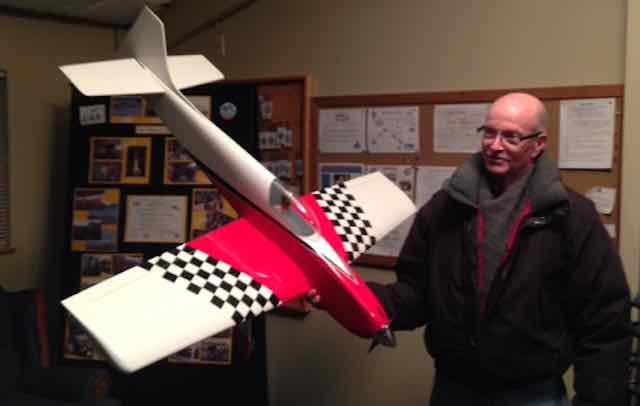 Denny Sumner shared his scratch built, Mark Rittinger design, Pharaoh sport plane.
It has a foam core wing with balsa and plywood construction for the rest of the airframe.
Denny's build thread is found on RC Groups.
Specifications for Mark's prototype:
Ready to Fly Wt.: 72 oz.
Wing Area: 3.68 sq.ft. (~530 sq.in.)
Wing Area Loading: 19.56 oz. sq./ft
Wing Cube Loading Factor: 10.2
Power: 750W at 48A
Watts in: 166.66W/lb.
CG at 25% with no nose weight.
Denny's version is immaculately covered with red and white World Models Toughlon covering with MonoKote checker boarding.
It uses a Cobra 3520/12 and a Cobra 60 Amp ESC turning a 12x8E prop on 4S LiPo battery.
He used JR NES-321 servos for the rudder and elevator and Hitec HS-80s on ailerons.
We can't wait to see this one take to the air when the weather finally breaks for this year!
March 2018 Show and Tell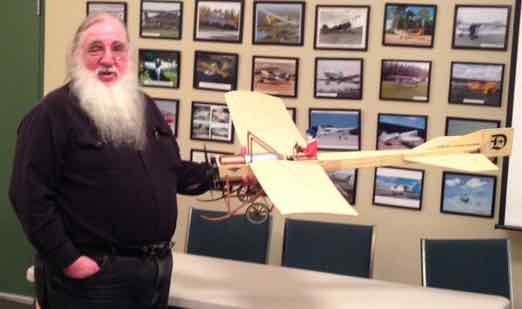 Keith Shaw shared his recently completed Sig 1910 Deperdussin.
The plane has a wing span of 49.5" and wing area of 479.8 sq.in. Keith has it powered by a 2S A123 1100mAh pack and a Cobra 2204 outrunner. As always, Keith had add his own special touches to it including its own special carrying case.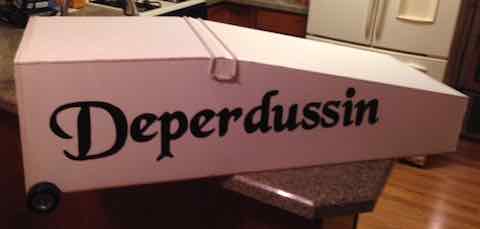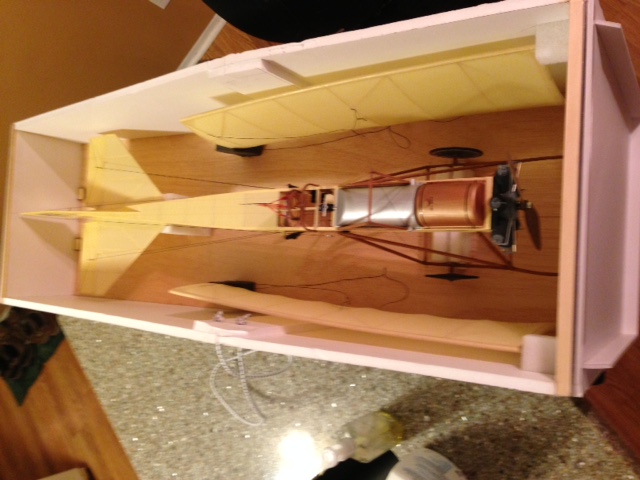 Return to Site Table of Contents