August 2008 Show & Tell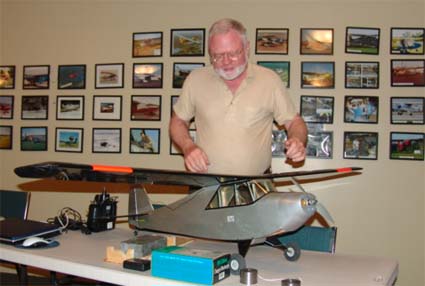 Jim Cross with his Astro Flight Porterfield Collegiate.
He has incorporated an in-flight data logger to learn more about the power system.
Jim Cross showed off his Astro Flight Porterfield Collegiate. The plane has a wingspan of 69.5 inches and wing area of 675 sq. in. The motor is an AF40G cobalt. 6 26650 M1 "A123" cells provide the power. It has a neat hatch on the side. He has a Seagull Systems data recorder onboard.
Jim demonstrated how the onboard data system gathers in-flight data. That was very interesting and educational. Thanks Jim.
October Show and Tell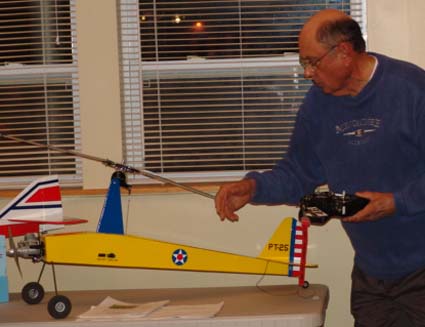 George Lemieux shared his PT-25 Autogyro from Flying Balsa. He felt that the plans, instruction booklet, wood quality and parts fit were all excellent. It is covered with Monokote and uses 4 functions of his 6-channel Futaba radio. Power is an OS 25.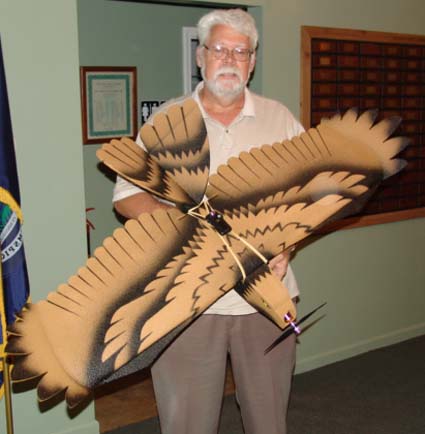 Paul Sockow showed off his Golden/Tawny EPP Eagle, which he purchased assembled with the power system installed. It has a wingspan of 59 inches and is 31.9 inches long. Its flying weight is about 17.6 oz./500g.
Paul purchased the power system with the kit. The motor is said to be a 1000Kv brushless outrunner with a 20-amp electronic speed control (ESC). The motor looks like a TowerPro or Suppo.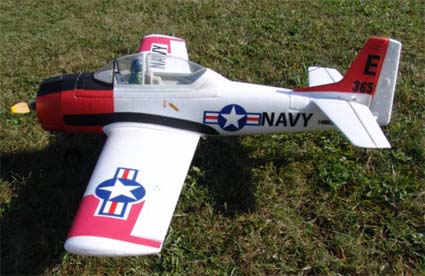 Ken Myers shared his version of the very popular parkzone T-28 Ready to Fly. He uses a 3S1P "A123" 2300mAh pack and a Master Airscrew standard 11x8 wood prop and supplied brushless motor and 25-amp ESC. He replaced the supplied receiver with a Hitec 535 negative shift, since the supplied receiver was unusable because of sever glitching. He has a complete report on this plane at his Web site homepage.mac.com/kmyersefo/t28/parkzonet28.htm.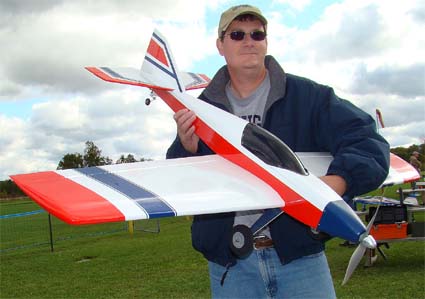 Dave Stacer had his completed Electro Flying Fusion kit-built plane ready to share. This builder's kit is available from Electro Flying Models at www.electroflying.com/fusion.html. The model spans 57.5 inches with a wing area of 569 sq.in. Dave's model weighs 80 oz. ready to fly. It is powered by a Scorpion S-4020-12 brushless outrunner motor turning an APC 12x10E prop. The battery is a 6S1P "A123" pack, that for Zip charging, has been built as two 3S1P packs connected in series.
Dave's Fusion was test flown on Saturday October 4. With the very powerful power system and a cubic wing loading of 10.2 oz./cu.ft., it is delight to fly. This is one of the very best flying sport planes available, and its looks aren't bad either!
Nice job on this complex and time consuming build Dave! Congrats on the great flier.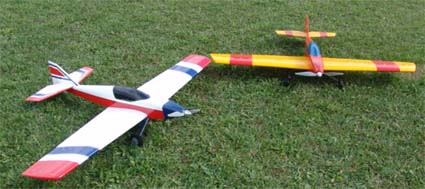 Dave Stacer's Electro Flying Models Fusion setting beside Ken Myers' version
Seen at the Midwest field together on October 4 when Dave's model was successfully maidened