December 2005 Show & Tell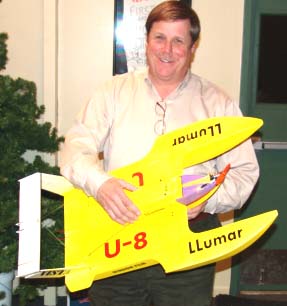 Larry Markey shared his eight ounce Miss Hanger One. It flies extremely well at this low weight. Larry says that the knife-edge flight is very good, considering the design. It is powered using a Little Screamers Purple Peril brushless motor. The plane/hydroplane kit can be found at redshangarone.com and Jim Young has done a nice write-up on the kit on the Ezone online at www.rcgroups.com/links/index.php?id=4882.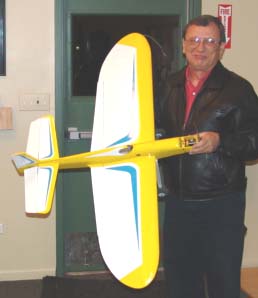 Rick Sawicki brought in his Smoothie control line E-power conversion. It flies great. It is powered by an AXI 2826/10 and uses the new PolyQuest "Twenty" 3700mAh cells. Rick is very enthusiastic about these new cells, as they have very good voltage at the amp draw he is using. The Smoothie's ready to fly weight is 50 oz. It easily does the six-minute control line pattern.
October 2005 Show & Tell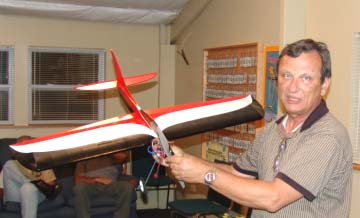 Rick Sawicki shared his two control line electrically powered models with us.
His Flight Streak is stock including wing area. The power system consists of a Typhoon 29/12/10, Castle Creation's Phoenix 35 brushless ESC, a Ztron Timer (www.windyurtnowski.com) and a Kokam 2000mAh 15C 3S1P Li-Po pack. On a calm day he uses an APC 12x6E prop and on when it is windier an APC 11x7E
The larger white and yellow plane (bottom photo) in the photos is a Tutor2 with an AXI 2826/10, CC Phoenix 45 ESC, and Kokam 3S2P 2000mAh 15C Li-Po pack using the same type of timer and an APC 12x6E prop.