February 2005 Show & Tell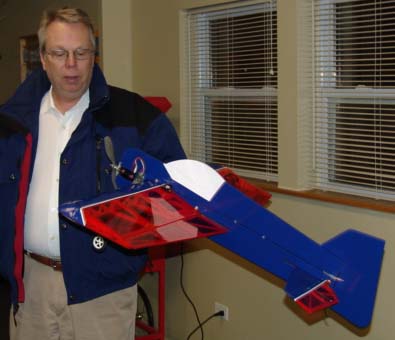 Rudi Reinhard shared his Extreme Flight Yak-55 SP-E aerobatic 3D ARF. The plane has a wingspan of 33", length of 31.5", wing area of 340 sq.in., and weighs 18.5 oz. RTF for a wing loading of 7.8 oz./sq.ft. It is powered by a Hacker B20-15L geared 4:1. A 3S1P 2100mAh Li-Poly feeds power to the motor through a Castle Creations Phoenix-25 Brushless ESC. The power from the motor drives a 10x4.7 prop. Rudi completed this plane in 2004.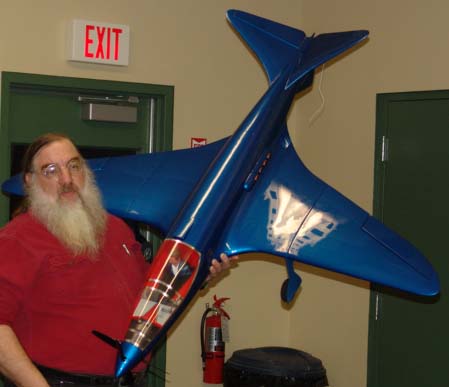 Keith Shaw showed his Bugatti R100. Keith has completely re-powered this plane. It now has twin Astro Flight 05 brushless motors and Li-Po cells. Ken Myers published a complete report on this plane update, by Keith Shaw, in the December 2004 Ampeer. You can get all the details by going to the Ampeer page at the EFO Web site members.aol.com/kmyersefo/ampeer.htm and selecting the version of the issue you wish to read, .PDF or HTML.
One important thing that Keith noted at the meeting was that he was having some trouble with the landing gear flexing. He replaced the new K&S wire with older K&S wire and found the problem fixed. It appears that the current runs of the K&S wire are much weaker than the older wire.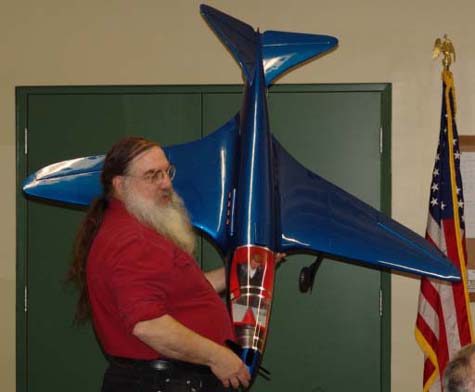 December 2004 Show & Tell
Ken Kaiser had a couple of very nice electrically powered models to share with us.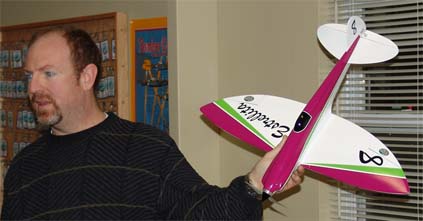 His Estrellita is a kit from JMGlasscraft, John Fotiu and features a built-up wing and fiberglass fuselage. Ken felt that all aspects of the kit were good, including the hand drawn plans. The wing was covered with 0.56 oz. glass cloth and the whole plan was then painted. Controls include ailerons, elevator and speed control. The motor is an AF .010 with the power supplied by an E-tec 1200mAh 3S1P Li-Po pack and controlled by a Castle Creations Phoenix 10 brushless ESC. It has an all-up weight of 11 oz. This is a builders' kit with no prefabricated parts.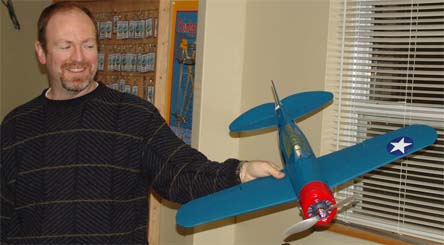 Ken's second plane was a Dumas 30" rubber powered kit converted to RC and electric power. He felt that all elements of the kit were good with the instructions being okay but not with much detail. He replaced the balsawood stringers with basswood. He thought the alignment notches in the parts could be improved. It is covered with Doculam (laminating film) and airbrushed with Testers Acrylic paint. An Airtronics transmitter tells a Berg receiver and 3 Hitec HS-50 servos what to do. The 150 sq.in., 9.6 oz. model is powered by a PJS 300 SFR Outrunner electric motor, Castle Creations Phoenix 10 and Apogee 850mAh 2S1P Li-Po battery. Like all lightweight models, it can't handle a lot of wind and with the short coupling can be interesting to fly, keeping the pilot on his toes.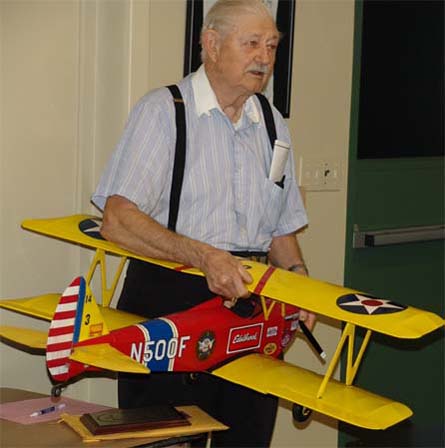 Stan Spiewak shared his rebuilt Aerodrome Fly Baby bipe. The original airframe had been purchased at a swap shop and had suffered the slings and arrows of RC flying over the years. He felt that the plans, wood quality and parts with were all excellent and the instruction booklet with decent English was good. It is now covered in red and yellow Ultracote. Stan noted that the Enya .46 4-stroke that powers this 6-pound bipe is very powerful. He also said that it is a very strong plane that has survived his flying it.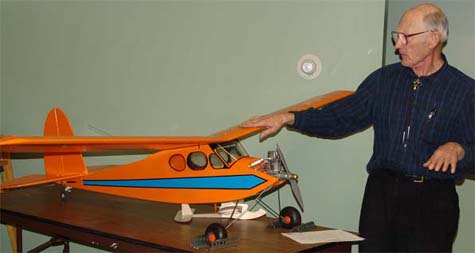 Bill Brown has about $125 worth of Coverite 21st Century fabric on his 1124 sq.in., 7.4 pound Quaker, which he calls Quaker #3. The Enya .60 4-stroke swings a 13x6 prop at 9000 RPM. It has a cubic wing loading of 5.43 oz./cu.ft., which puts its flyability in the lightweight park flyer range.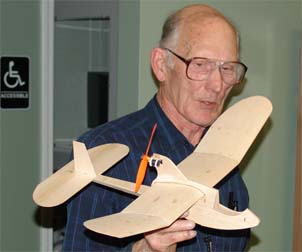 Bill also showed his NortheastAerodesign Skeeter Hawk. It is laser cut and builds quickly and accurately. The SKEETER HAWK is a stable flyer both indoors and out. It can take a moderate wind and will thermal.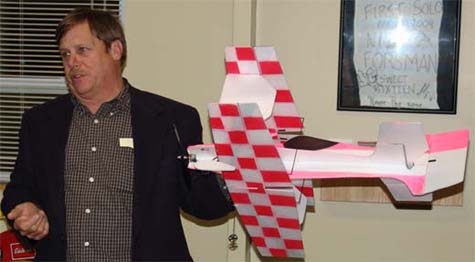 Larry Markey showed his Mark-e-Bipe original indoor 3D biplane design. It uses a rewound CD-Rom motor, Castle Creations Phoenix 10 ESC and a 2S1P 480mAh Li-Po battery. It has 300 sq.in. of wing area, ad 25" wingspan, 28" fuselage length and weighs 6 oz. ready to fly. Larry does have plans available.