January 2008 Show & Tell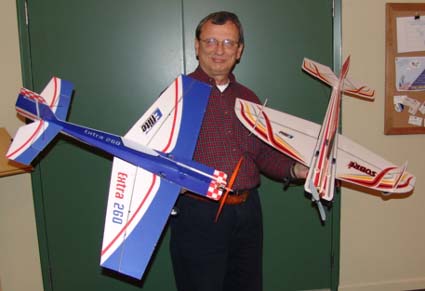 Rick Sawicki brought two E-Flite planes specifically designed to be flown outside. They are more rugged than most foamies and about an ounce to an ounce and a half heavier than the Icarus type designed for Indoor flying. The Extra 260 tumbles really well. Rick reinforced the wing with Kevlar tubing on the 260. The Sobre flies like a pattern plane. He got them from Atlanta Hobbies. He used the new Mercury foam safe glue in the construction. They weigh about 10 to 10.5 oz. RTF. They both use the HXT 1060mAh 3S Li-Po battery. They are designed to be really rugged for outdoor flying.
March 2008 Show & Tell
Bill Brown led off show and tell with his Hangar 9 Sopwith Camel and E-Flite Taylorcraft 450 ARF.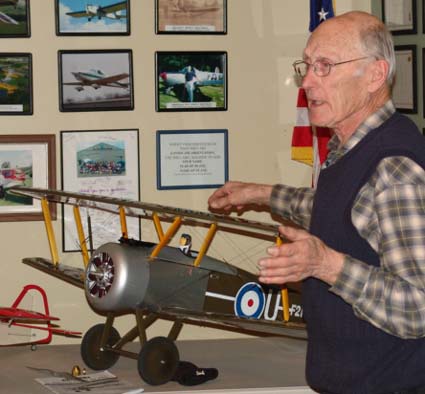 The Camel is powered by an AXI 4120/xx and uses the 2300mAh cells from A123 Systems to provide the power for the motor.
He said that the quality of the E-Flite Taylorcraft is excellent. The optional E-Flite Park 480 outrunner powers it.
He is looking forward to flying both of these models soon.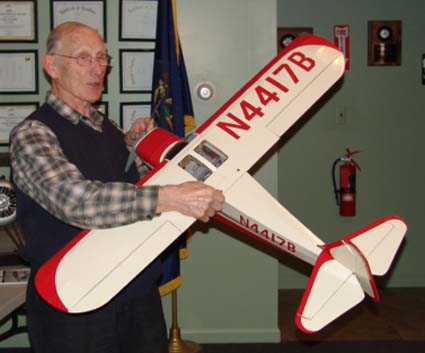 Rudi Reinhard had the AJ (Andrew Jesky) Extra 330S from Fliton USA. The model has a 50.4" span with 475 square inches of wing area. It weighs 57 ounces ready to fly, which gives it a wing loading of 18 oz./sq.ft. or cubic wing loading of 9.5 oz./cu.ft. The power system consists of a Hacker A30 10XL powered by a Thunder Power 3300mAh 4SX Li-Poly with a Castle Creations Phoenix 45 (v.1.55) controlling the throttle. The onboard radio system uses a Spektrum AR6200 receiver, Castle Creations BEC (battery eliminator circuit), four JR DS368MG servos.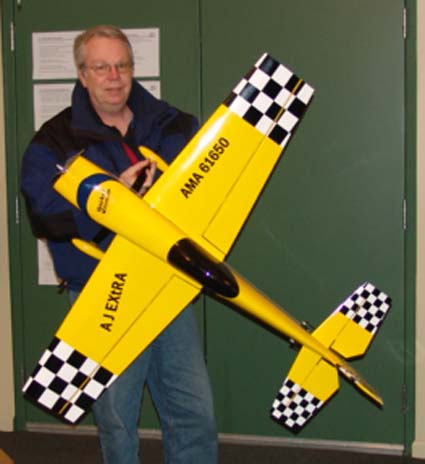 Ken Myers shared his scratch built Son of Swallow. The model is a "scale model" of the Fred Reese design called the Swallow. The original Swallow appeared in the October 1986 Model Aviation as a construction article. The original model is said to have a wing area of 540 sq.in. and power was provided by an O.S. .40 4-stroke.
Ken put an image of the original plans into his 2-D CAD program, and then drew his construction plans on time of the image. The outline is quite faithful to the original, but there were many changes to the construction, as well as the size.
The model has a 52.75" span with 415 square inches of wing area. It weighs 40.8 ounces ready to fly, which gives it a wing loading of 14.2 oz./sq.ft. or cubic wing loading of 8.3 oz./cu.ft. The power system consists of a Hyperion Z3019/10 (sort of - wrong Kv) powered by a 3S1P pack made up of A123 Systems, Inc. 2300mAh cells taken from a DEWALT 36v (DC9360) tool pack with a Castle Creations Phoenix 45 controlling the throttle.
The onboard radio system uses a Shadow 3 72Mhz receiver and two Hitec HS-85BB servos (elevator & aileron) and a Hitec HS-81 for the rudder.
Ken noted that he has really enjoyed building from scratch again, as over the past couple of years, all he has done is to convert glow ARF kits to electric power.
As usual, he did a red and yellow covering, but this time he was inspired by a free flight model that he saw in a recent Model Aviation.
The original Fred Reese Swallow had the 4-stroke cylinder head sticking out one side of the cowl and a dummy cylinder head on the other. To stay faithful to the model, Ken added dummy cylinder heads to both sides of the cowl.
More information on this plane can be found here:
www.rcgroups.com/forums/showthread.php?t=788482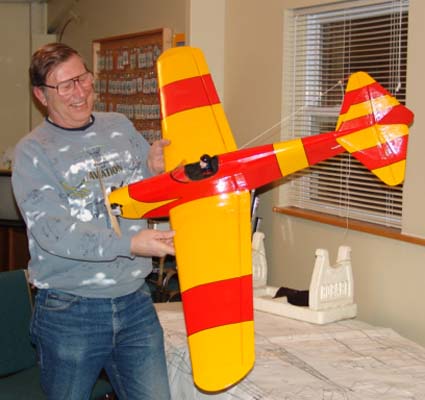 Jim Lapham brought in a foam type 3-D plane. He noted that the fellow who produces the kit lives up in Howell. He wanted to let folks know that the producer of the kit had had a "Li-Po fire" in his basement, even though he was a "seasoned" user of this type of battery.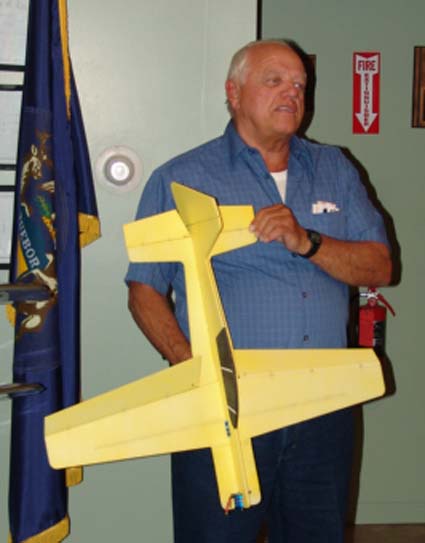 Stan Spiewak once again had a neat little helicopter to demonstrate for us. He converted a Walkera CoAxial Contra Rotator to a MASH type chopper complete with stretchers. He lifted off with "Suicide is Painless", the MASH theme song, playing on his tape player. Unfortunately the flight was cut a bit short when the chopper collided with a light. :-(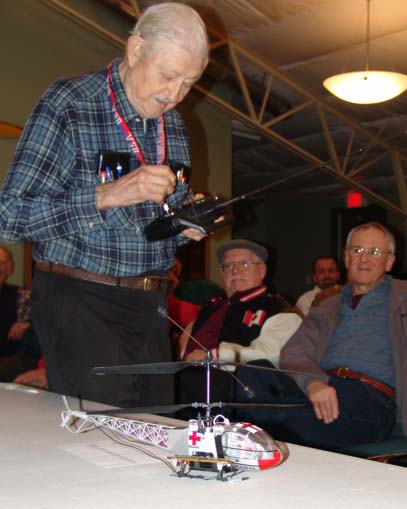 April Show and Tell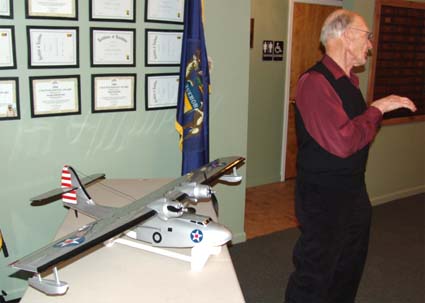 Bill Brown showed his new ElectriFly PBY Catalina. He thought the fiberglass fuselage was beautifully done. He noted that it does take some true modeling skills to get it completed, even though it is an ARF. He's been told the water rudder is not big enough, but he's planning to use blasts from the props to use the rudder. He thought it was a good value for the money.
It weighs 2.5 lb. empty and the 4S A123 pack adds 10.6 oz. The wingspan is 53.5" with an area of 395 sq.in.