February 2009 Show & Tell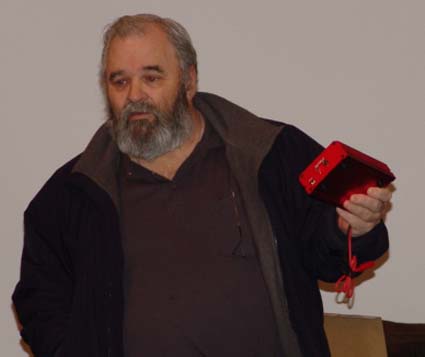 Jon Quisenberry shared information his new Thunder Power TP 1010C charger. Since he is new to electric flight, and really had no chargers, he chose this one for its versatility and power (220 watts total). It can charge NiXX, lead acid, Li-Po, A123 and other Li-ion types. It can be used as a fast field charger for receivers and transmitters as well. He also purchased the TP-210V cell balancer. This is a very good charger and balancer for anyone serious about electric flight.
www.thunderpowerrc.com/html/cba-chargers.html
www.thunderpowerrc.com/html/cba-balancers.html
March Show and Tell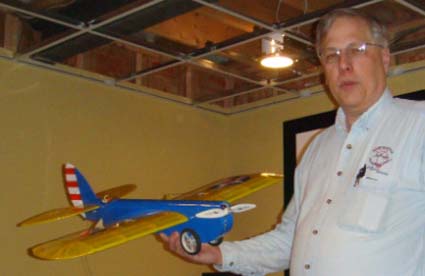 Roger Wilfong brought in and demonstrated his version of another RetroRC design the eMoth.
This is a 32" span electric plane designed for easy transport. The wings panels are plug in and the tail is easily removable. Plane complete with transmitter can be easy packaged in a small suitcase. Another interesting feature is the two-position wing that allows the plane to be flown as a park flyer or for faster flying and better wind penetration.
Roger's version weighs 19 oz. RTF and is powered by an Exceed-RC Alpha 400 outrunner and a 1200mAh LiPo.
For those interested, Mark and Jim Young of T&J Models in Brighton will be sharing a stand at the Toledo Show.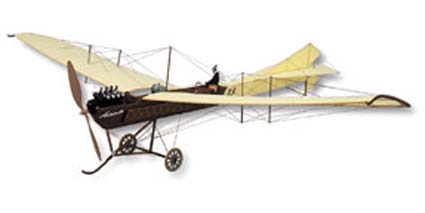 Sig photo
Bill Brown presented his Sig 1909 Antoinette plane. This compliments the 1909 Demoiselle Bill already has. Antoinette is another indoor/calm outdoor model from the Sig Pioneers of flight series. The model has a wingspan of 50" and a weight without batteries of 8 oz. Bill spent a lot of effort detailing the engine, adding push rods, spark plugs and wiring.
The overall effect on the model was well worth the effort. Special care was needed with preshrunk covering and rigging to prevent warping. Bill has successfully flown the plane at the Skymasters weekly indoor fly-ins.
Bill issued a challenge to members to build one of these pioneering aircraft and to come a have an indoor racing series. The writer will be glad to provide a trophy for this event should it take place. Potential competitors should understand that Bill is already practicing and will be stiff competition.