February 2010 Show & Tell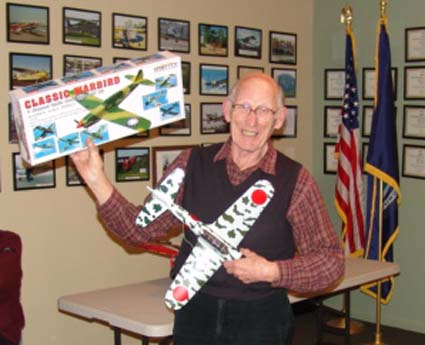 Bill Brown shared is Gravity Hobby.com Zero indoor flier. Cox formerly sold the plane. Gravity sells it for $15.99 at their Web site.
www.gravityhobby.com/home.php?cat=263
While the plane can be flown outside in light winds, Bill noted that it flies okay in the Ultimate Soccer Arenas. It took him a while to tame it and he told about flying it through the rafters there. He feels that the plane is pretty tough and easily repairable. It flies a long time on the on a 2S Li-Poly 500mAh battery. It is supplied with a brushed motor, which has plenty of power.
The plane has a wingspan of 20.4 inches, length of 17.3 inches and flying weight of about 5 oz. It requires a Micro 3 or 4-Channel receiver (uses three channels), a Micro 7.2 volt 7 amp speed control, 2 micro servos 7-10 In oz and a 2/3 AAA NIMH 6 cell 7.2 volt pack or you can also use the Gravity 450mah Li-poly cell.
March 2010 Show & Tell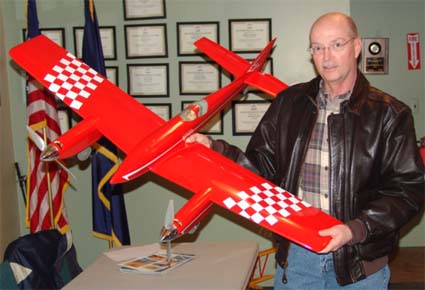 Denny Sumner brought in his beautifully Ultracoted Super Sportwin. Denny's is the second prototype of this Mark Rigginger design. You can learn more about the design and Mark's and Denny's versions on RC Groups at www.rcgroups.com/forums/showthread.php?t=1075719
Denny's version uses a pair of Scorpion SII-3008-1090 motors and is outfitted with retracts. It also uses two Scorpion 35 amp ESCs and a 3S 5000mmAh Li-Poly. The motors turn APC 9x7.5E props. It weighs in at 4 lb. 2 oz./66 oz. The beautiful graphics, that really set this plane off, are from Callie Graphics.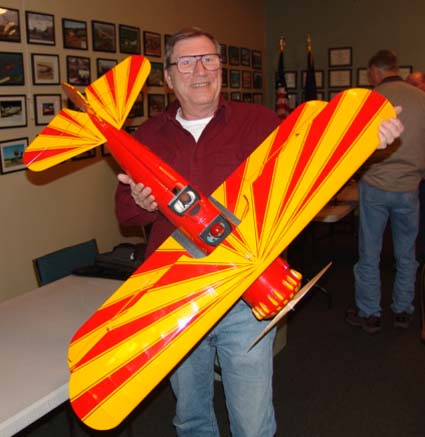 Ken Myers shared his nearly completed conversion of an E-Flite PT-19 Stearman into Super Stearman N56772. The model has been extensively reworked. It is fitted with a Scorpion SII-3026-710 outrunner, Jeti Spin 44 ESC and a 4S "A123" 2300mAh pack. It has taken Ken about four and a half months to complete the conversion. Ken will have a lot more information about the conversion on the Internet soon and let you know where you can find it.
With a wing area of 557.4 sq.in. and a RTF weight of 70 oz. it will be a very nice flyer. When using the initial test flight prop, an APC 13x8E, the power in will be about 430 watts.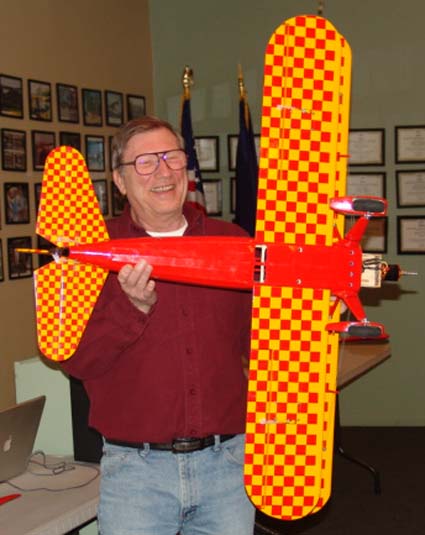 April 2010 Show & Tell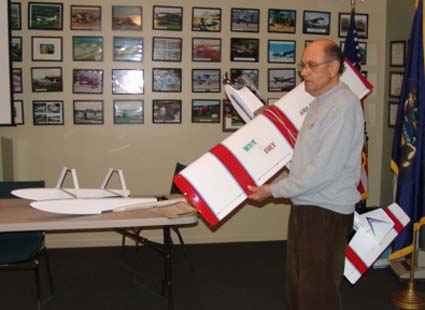 George Lemieux showed off his new RCM Trainer 60. It was designed by Joe Bridi in 1968 and appeared as a construction article in Radio Control Modeler. A kit from Bridi was also offered. George's was built from kit. He calls his "Wet or Dry" since it uses landing gear or floats. He got the plane for nothing when a fellow gave it to him. When he got it, it was just a wing under construction and some broken up old plans. He has used Maxford floats. The floats "weigh a ton" and are fiberglass. He made his decals using the computer.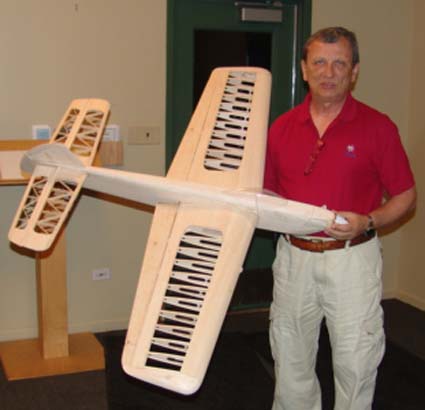 Rick Sawicki brought his latest control line electrically powered model, the Legacy, to share with us. Rick has been doing electric control line for at least six years now. He was, in his younger days, a top competitor in control line, along with his father.
The airframe was constructed from a Brodak Legacy kit with some parts substitution and modifications made by Rick. www.brodak.com
He has built a motor hatch and mounting system so that he can easily change between an AXI, Scorpion and Arrowind outrunner.
Rick uses a standard Castle Creations ESC that is controlled by his timer/controller. He uses the helicopter governor mode to keep his up-lines and down-lines at the same speed. The Will Hubin timer controls the voltage to the ESC and the time. It sells for about $23.
If you have questions about control line flying using electric power, Rick would be happy to answer them for you. You can reach him via email at rrrjjjsss@aol.com.
May 2010 Show & Tell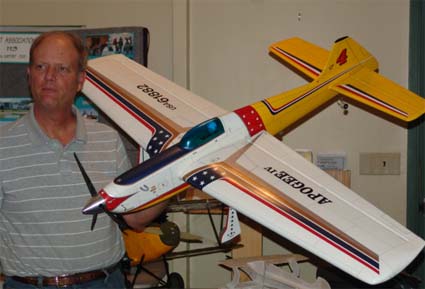 Bob McDonald showed his Apogee IV control line aerobatics plane. The Apogee IV uses a hollow core composite wing with PA .75 engine and a tuned pipe. The finish is expertly done with car paint and polyurethane. Bob's planes are a masterpiece to behold and always great fliers.
Bill Brown had several things to share with us. He said the Lawrence Tech Senior team did well with their design this year. Larry Markey flew their first model, which did not fly well and gave them some good pointers on a redesign.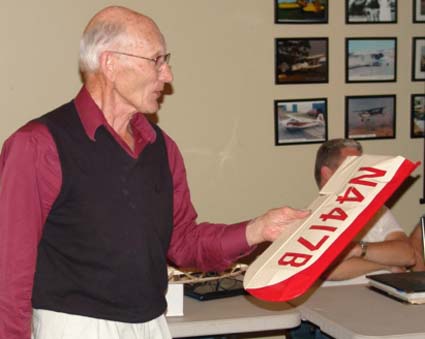 Bill showed what was left of his son's E-flite Taylorcraft wing. A swan attacked the plane when his son was float flying.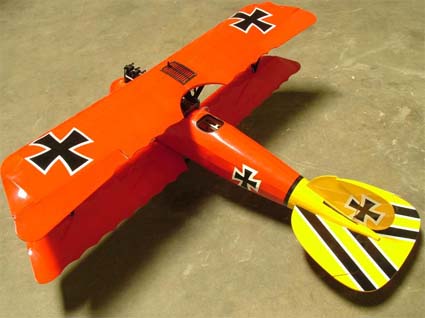 Bill's Albatross is similar to this one, but green. Sorry about not getting a photo at the meeting. KM
At Toledo, Bill bought a Green Models Albatross. He likes the structure a lot. It was $239 for everything but the receiver and power battery. Hi back plate for the spinner was warped some, but they are sending a replacement. The rest of the engineering of the airframe was nicely done. Bill is really impressed with the whole thing. His son has an identical one.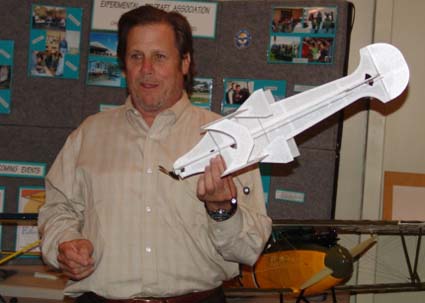 Larry Markey showed his 1/2 size original Blender 39g. There was a lot of effort put into getting it very light. It uses the small, light Spektrum radio gear.\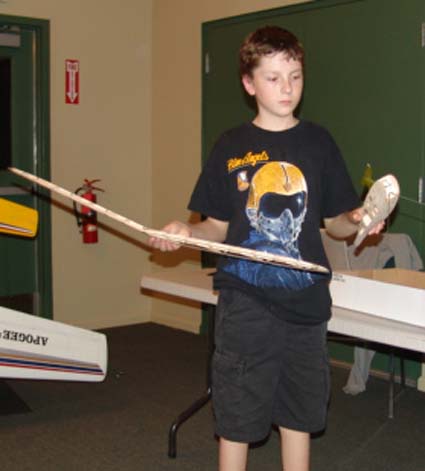 Andrew Rellinger is constructing a Mountain Models Little Bogie. The covering will be Solite and it is to be powered by an outrunner motor.
www.mountainmodels.com/product_info.php?products_id=672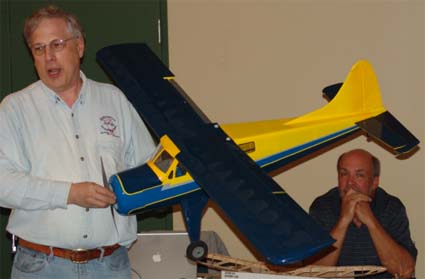 Roger Wilfong showed off his newly "revived" E-flite Beaver. The plane, which formerly was another members, met with an unfortunate incident at the field near the end of last flying season. Roger has repaired it and recovered it. It needs some finishing touches and will soon be airworthy once again. Great job Roger.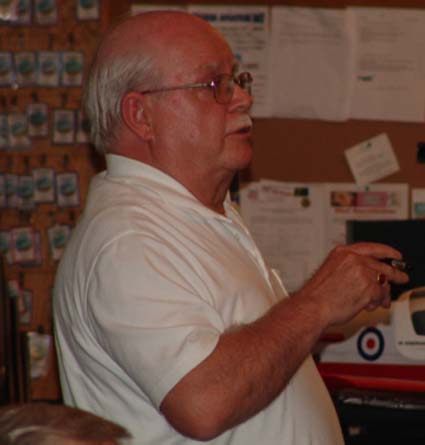 Barry gives us the rundown on his Bulldog
Barry Jones finally got his Bulldog finished after a bit of time off. He talked with Dave Platt at Toledo who had his 1/4-scale at Toledo. Barry finished up his canopy on his own, while Dave had his made.
Barry recapped his construction for us. His finished version now weighs 18 pounds or about 43 oz./sq.ft. Barry has built a second wing that has a rectangular plan form to try first to get the wing loading down for his first flights. He has spent a year and a half to get the project done.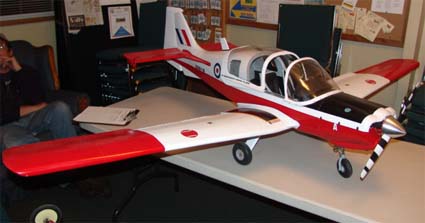 November 2010 Show & Tell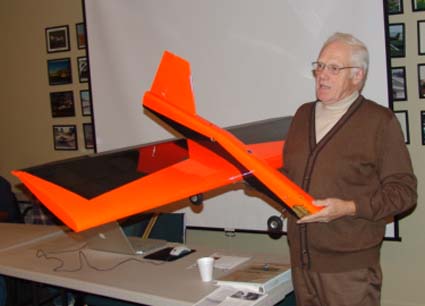 Arthur Deane showed a Bill Evans Scimitar-type plane that had been donated to the club. Chuck Wooley liked it so much that he purchased it on the spot. Thanks Chuck, and enjoy it!
Chuck Wooley brought in his reconditioned Andrews Aeromaster biplane. This plane was built from one the original Andrew's kits. It has one of Chuck's famously fabulous Monokote finishes. It is a biplane that has never been beaten for "flyability!"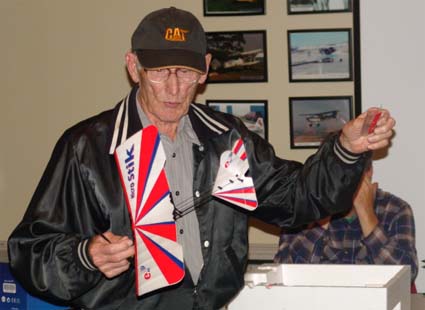 Bill Brown shared two new planes. The first is the very nice flying eRC Micro Stik. It is a three-function model that flies indoors, and surprisingly well outdoors, in up to moderate winds. The RTF comes ready to fly with everything needed, including 2 single-cell Li-Poly batteries. It sells for an amazingly low price of $74.99 at Hobby Lobby.
www.hobby-lobby.com/micro_stik_rtf_532848_prd1.htm
Several of us had a chance to fly it at a Skymasters' meeting, where Jason Cole of Hobby Lobby did a presentation, including introducing this plane. Those of us that got a chance to fly it at the Ultimate Soccer Arenas can attest to its very nice and powerful flying for a micro.
His second plane was a Mini Tiger Moth by Green Models RC. It is an ARF of all wood construction and covered in transparent green and yellow. It has a wingspan of 26 in. and weighs about 5.5 oz. It uses a 2S 650mAh Li-Poly battery. Bill hoped his up with a motor that really zips it through the air.
You might want to look for one of these little cuties at the Toledo show this coming year.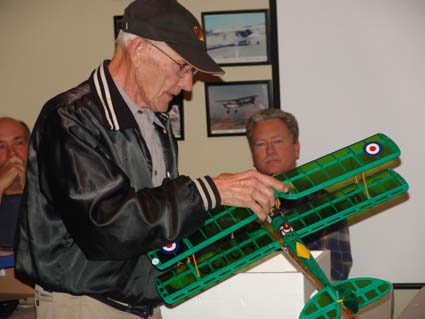 December 2010 Show & Tell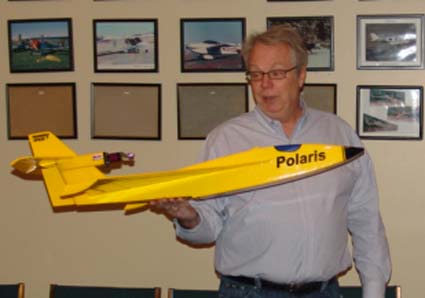 Rudi Reinhard showed off his new Polaris. He'd seen Denny Sumner's flying this past summer and decided he wanted an 'all surface' fun plane. It is made of foam and is available from ModelAero.com
ModelAero.com
It has a wingspan of 29" and is 38.4" long. With a wing area of 343 sq.in. and flying weight of 9.1 oz. it has a wing loading of 3.82 oz./sq.ft. and wing cube loading of 2.48 oz./cu.ft. It is outfitted with a Spektrum AR6100 receiver, 3 Spektrum DSP75 servos, CC Phoenix 35 ESC and a Hacker A20-12XL outrunner. It uses an APC 7x4SF prop and a3S 2070mAh Li-Poly battery.