February 2015 Show and Tell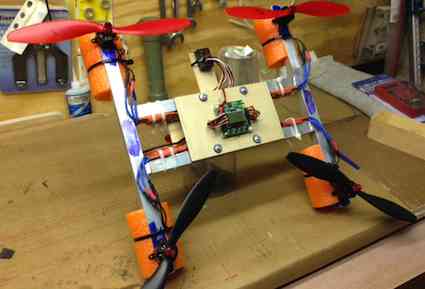 Charlie Dochenetz demonstrated a scratchbuilt quadcopter he is working on. Design is based on design material available on Youtube. His plan is to first finish the project as a trainer with subsequent additions of a camera and ultimately FPV capability.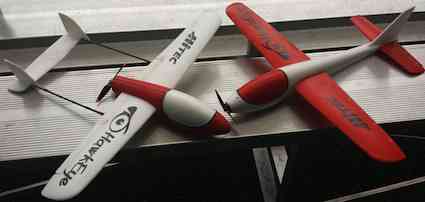 Roger Wilfong demonstrated two, converted Hitec Hawkeye EPO (Expanded Polyolefin) handlaunch gliders.
The red winged one has the guts from an Eflite Beast (brick, servos & brushless motor). It is full 4 channel with a small linear servo on each aileron. All up weight is about 95 grams depending on which battery (200 or 300 mAh). It uses about 100 mAh on the typical 6 minute flight. At demonstrations at the Legacy and Ultimate indoor flying meets several people thought it was fast at half throttle. They were amazed when model was operated at full throttle.
The twin boom plane was an experiment. The tail was chopped off the fuselage about an inch behind the wing and the stab supported on a.pair of small, light carbon fiber tubes. The fins were made from Depron and, combined, are 10-20% larger than the single fin on the Hawkeye.
This plane uses more conventional gear - there's a Lemon DSM2 receiver, two 3.7 gram servos, an 1811-2000 outrunner & a 6 Amp ESC. The model doesn't have a rudder. It came out about 10 grams heavier than the first one. The plane flies as well as the first one and if anything it glides better (probably because the nose is cleaner and the prop stops when the throttle is cut). It's as fast as the first one, but at full throttle it's a handfull - Roger never noticed how much he makes minor, unconsious corrections with the rudder until he switched between these two planes.
It is reported that Nankin may have a couple of these Hawkeye gliders for $15 or $16 each.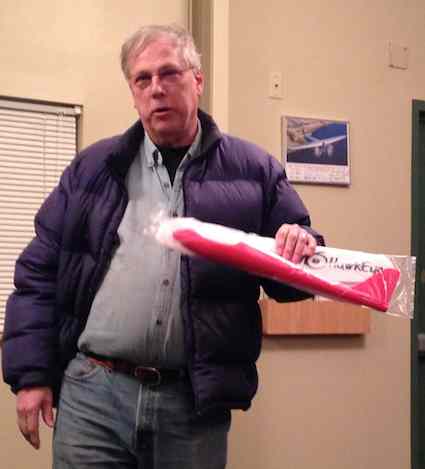 Roger Wilfong holding the Hitec Hawkeye kit. (Dave Stacer photo)
Dave Stacer shared his latest electronics project. It logs the data that is output by a CellPro charger and displays it back for reveiw. It also has bluetooth capability to display the data on a cell phone or computer. Besides learning how the CellPro chargers output data, he had to write a program to display the logged data.
Return to Site Table of Contents