January 2007 Show & Tell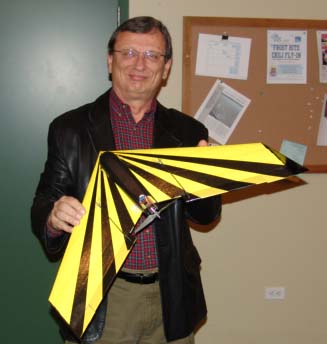 Rick Sawicki showed his modified Wedgie. The motor is a Little Screamer Park Jet v2. Rick powered it to be fast, and it is! He feels this motor is now moving this wing at between 80 mph and 90 mph. The motor weighs less than 1 oz. yet is handling the 18.5 amps being pulled at WOT.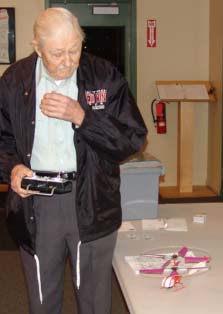 Stan Spiewak had a Harbor Freight helicopter that he "fixed" by adding paper to the back to keep it from "spinning". He explained how it flies and then explained why it doesn't fly well. He's not happy with it. It doesn't really work well even for $39.95.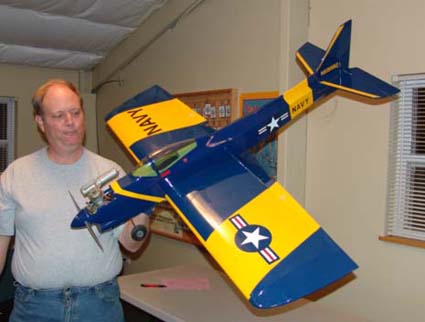 Bob McDonald showed off his Top Flite contender, which he had won in a raffle. It is covered with Monokote and the body is painted with Concept 2000 paint from Radio South RC. The graphics were done locally at Signarama. The plane weighs 6 lb., has a 56 in. span and has 670 sq.in. of wing area. Power is a Super Tiger G2 .60. He enjoyed the simple construction but felt that the wood was of poor quality, which he described as "crate wood." The 5 flight controls include flaps.
February 2007 Show & Tell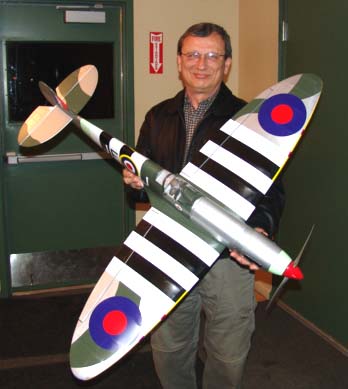 Rick Sawicki showed his Ripmax Spitfire which is now available as an ARF through Tower Hobbies. It is powered by an old style (gray) AXI 2820-10 that can swing a 12x6E prop on a 3S Li-Po. He had seen three of them flying on NiCads years ago when he was in London, England. They flew great then so he can't wait to fly his Li-Po version.