January 2011 Show & Tell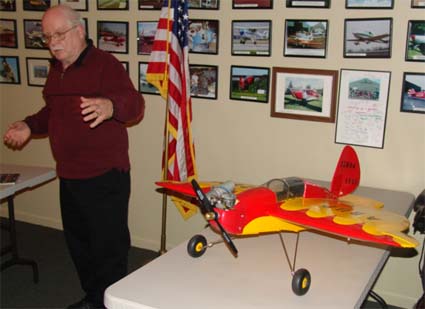 Barry Jones showed his scale ARUP S-2 'Heel Lift'. It can best be described as a sort of flying wing thing. It has a span of 42" and is 1:5.43-scale. He purchased the plans and short kit from England.
Here is a link to an interesting video about this plane.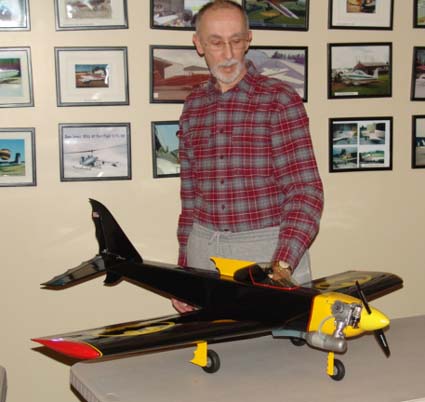 Jim Senia brought in a Sig Kougar done up as the Bat Plane. Jim built this model in the late 1980's. It is powered by a Como .51 glow 2-stroke. While Jim flew mostly electrically powered planes in the summer of 2010, heÕs going to be bringing out more of his glow planes this coming summer.
The 1989 Tim Burton Batman movie was the inspiration for Jim's modification. The movie starred Michael Keaton, Jack Nicholson, and Kim Basinger.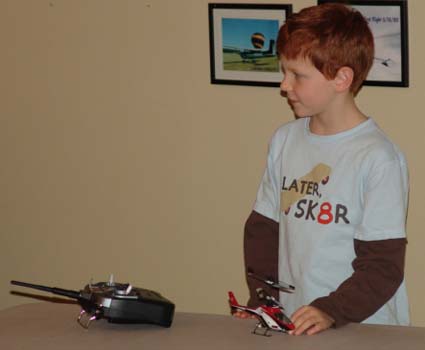 John Benjamin demonstrated his mini coaxial 4-function helicopter. He is so good at flying it that he landed it on his dad's hand in the audience. Nice demo John! :-)
March Show and Tell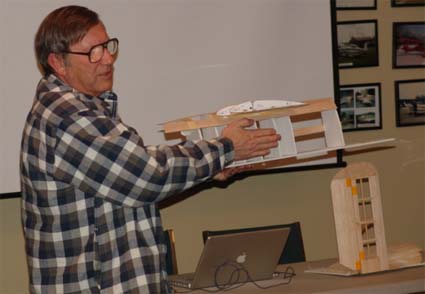 Ken Myers shared information on his latest design. It is a 1/9-scale An-2 biplane. He showed photos of the full-scale, to familiarize the members with the aircraft, and showed mock-ups of some of the troublesome design areas of the model.

Full-size Antonov An-2 Colt
Shows relative size of the Aircraft
He also shared some information on this Russian behemoth biplane.
For more information on the full-scale and the design of his 1/9-scale model, see the February and March EFO Ampeer newsletters.
The Nieuport 17
Barry Jones' Winter Project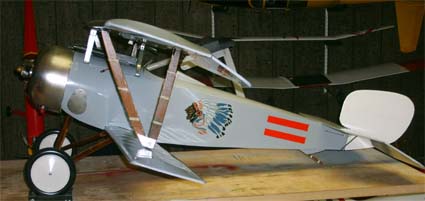 Hi Ken,
I have attached pictures of my winter project. It is a 1/4 scale Balsa USA Nieuport 17. Everything is complete except the paint for the wheels and the rudder. I need warm weather for that.
The airplane was slung and the plane balanced perfectly. The sling balance is shown in one of the photo.
It has a Zenoah 26 engine. It is controlled with 1 rudder, 2 elevator, 1 throttle, 1 engine kill, and 2 aileron servos. It weighs 14 lbs.
I would bring it to the meeting but it takes a little while to set up and my van is not set for airplanes right now.
Barry Jones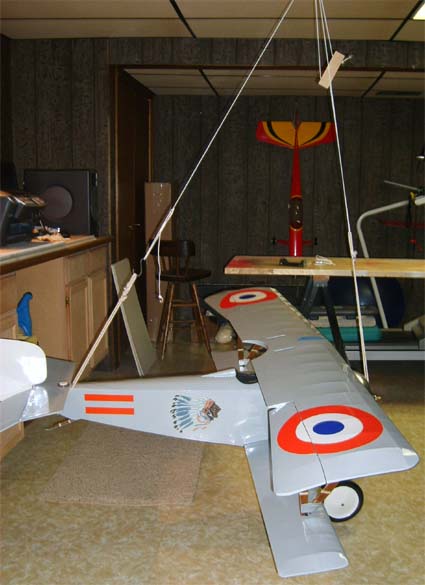 April Show and Tell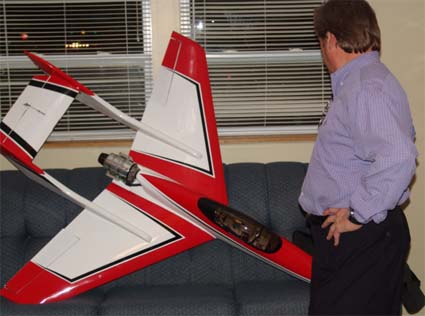 Larry Markey showed his highly reworked and modified Super Falcon 120.
The plane was designed to use a glow prop engine in pusher configuration. Larry has turned his version into a turbine-powered model. He noted that it needed a lot of modifications to be safe to fly. The flying weight 21 lb. with fuel. At the price of fuel now, each flight will use about $2.00 worth of fuel. With just over 1000 sq.in. of wing area, it is a pretty good size plane. Very nice job Larry.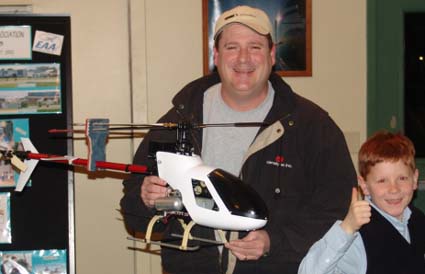 Michael Benjamin was given a Kyosho Concept 30. It is an 80's vintage chopper. He has the engine running, electronics set up and will give it a go soon.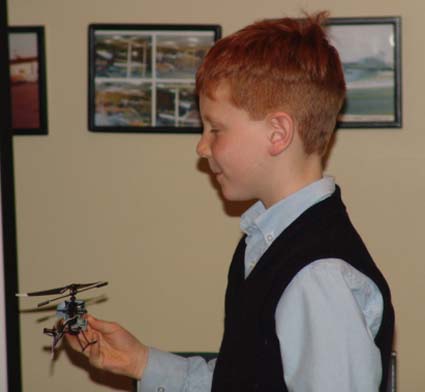 John Benjamin brought in his Blade mSR. It is the non-coax type can be switched from beginner to expert. Weighing in at less than one ounce, the Blade mSR takes ultra micro helicopter performance to the next level that Larry Markey spoke about. John gave a flight presentation of the Blade mSR's performance. Nice flying John!
May Show and Tell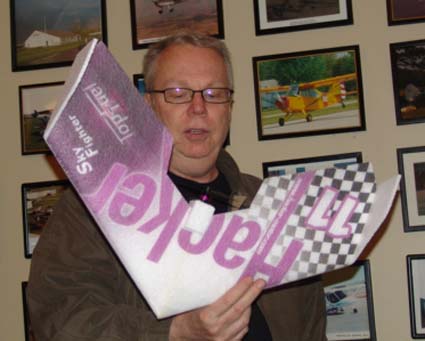 Rudi Reinhard showed his Hacker Skyfighter. He said that it is pretty fast for indoor flying, but it should be better outdoors. It is fast building and very stable.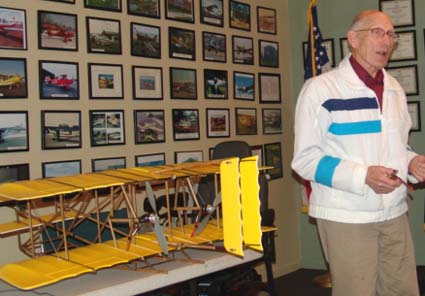 Bill Brown shared his Radical RC Wright Flyer. He described flying one of the Radical RC prototypes and liked it so much that he had to have his own. It is made from some GWS Slow Stick parts and the conversion parts from Radical RC. Just like the original, it uses wing warping. Pretty neat!