January 2012 Show and Tell
Jim Senia brought in two Fokker Triplanes.
The Electrifly Fokker DR-1 flies with 10x6 plastic prop. Jim has detailed it a bit.
Wing Area: 315 sq.in. / 2.1875 sq.ft.
RTF weight: 24 oz. / 1.5 lb.
Wing Cube Loading: 7.42 oz./cu.ft.
Wing Area Loading: 10.97 oz./sq.ft.
Jim's second and larger triplane was originally built by his father and flown as a control line model. It was originally covered with silkspan and aircraft dope. The original covering was stripped and then it was covered in Monokote when it was rebuilt for RC. It has an O.S. 61 2-stroke engine.
His father built it 38-years ago and was probably constructed from a VK kit.
The VK kit is still available from Proctor Enterprises. http://www.proctor-enterprises.com/products/vk/dr1/dr1.htm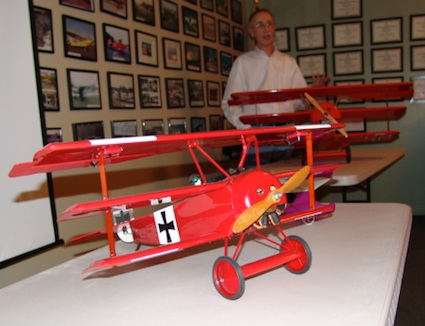 Jim in the background & Electrifly Tripe in front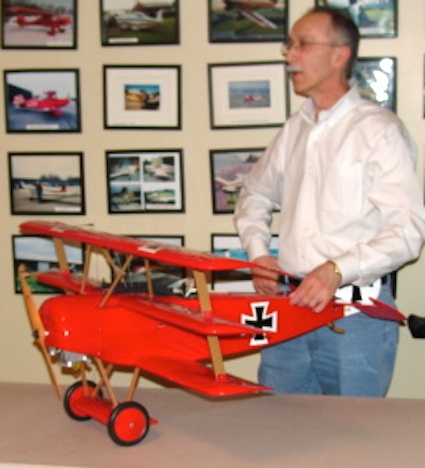 Jim and his dad's big Triplane
Roger Wilfong shared his little Widget. It appears to be a much smaller version of the SoarStar or Wingo, planes that were popular trainers in e-flight about 10 years ago. Roger flew it at the Ultimate Soccer Arenas and, unfortunately, had lots of mid-airs. Fortunately, it is very resilient! It uses the brick out of a Vapor for 3-ch control and the motor is a M1.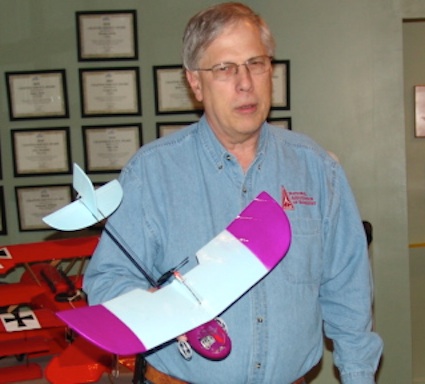 March 2012 Show and Tell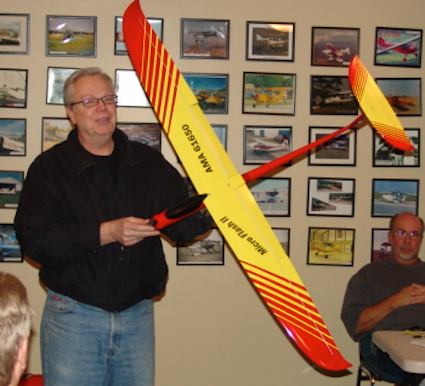 Rudi Reinhard brought in his Micro Flash II F5B Hotliner ARF. It is from Royal Model and spans 59" with 340 sq.in. of wing area. It weighs in at 41 ounces for an area wing loading of 17.4 oz./sq.ft. and a wing cube loading of 11.3 oz./cu.ft. The power system consists of a Hacker B40-8S geared 4.4:1, Castle Creations Phoenix Ice Lite 75-amp ESC, a 3S1P 25C 2700mAh Li-Poly and Aeronaut CAM 13x6 prop. Radio system power is provided to the Spektrum AR7000 receiver by the switching BEC in the ESC and is directed to 5 Spektrum A7020MG servos. It should be a really fast plane!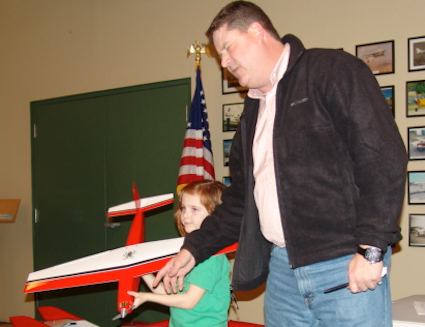 Mike Benjamin, along with his daughter Leah, Midwest's newest junior member, showed off his new quick little electric. It is set up the the same power system as the Rifle and should really move out! It is all stock with good servos. Mike was pleased with the quality.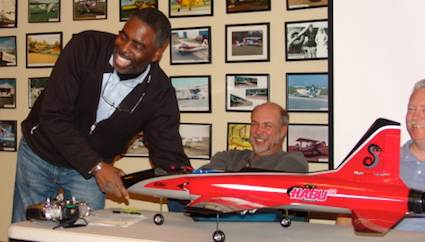 Ron Milon brought in his E-flite Habu 32 DF (ducted fan) ARF. It is set up per Horizon Hobbies' recommendations.
www.horizonhobby.com/products/habu-32-df-arf-EFL8075
His features a 6S1P 5000mAh Li-Poly with retracts and flaps.
October 2012 Show and Tell
Barry Jones shared his model of the ocean going tug, the "Irishman". It is superbly detailed with many, many white metal fittings. The power system consists of a 12v starter battery and twin brushed geared motors with counter rotating props. The speed control has forward and reverse, with motor mixing capability. It was difficult to find a transmitter that could do it all. The hull is fiberglass with styrene and brass for the structures. The lights and spot lights are wired really work well. It looks fantastic, with or without the lights on. Great job Barry!