January 2016 Show and Tell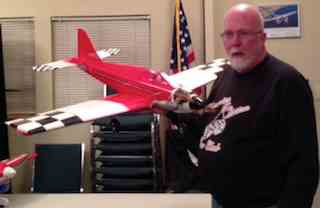 Chuck Wooley, past Midwest RC Society president and Midwest Life member, attended the meeting. He shared a recently finished Sig Kougar. It is powered by a Super Tiger .45 and is very fast. Chuck has always been known for his beautiful covering jobs, and this is one to be proud of as well.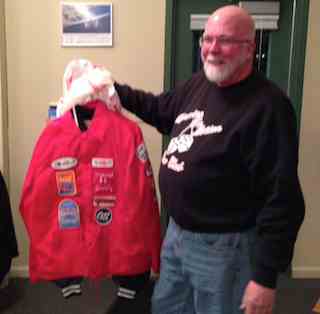 Chuck also brought along several of the 'old' Midwest RC Society club jackets to share. What a great history this club has
Thank you Chuck!
Joe Hass came as a guest and had several interesting aircraft to share with the club.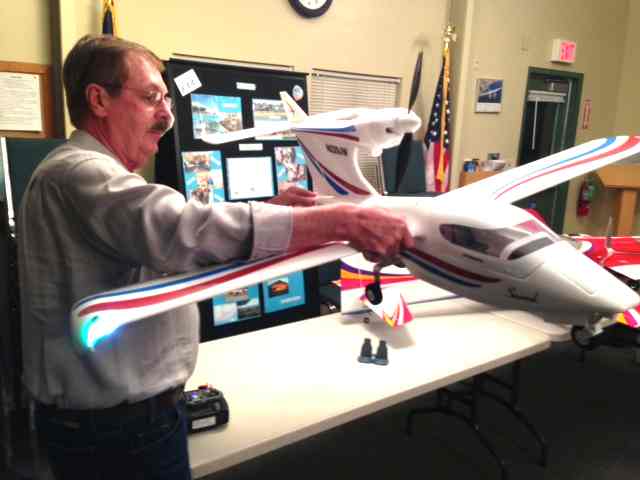 The Flyzone Seawind, from Hobbico, comes with retracts and flaps and lights installed. Changing the battery is very easy through cockpit. This is one very unique, feature packed and interesting, true amphibian.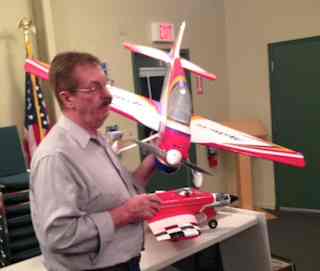 The Flight Model Apollo 70 pattern plane is an exceptionally fine flying aircraft using a 6S LiPo pack and a Rimfire 60 motor.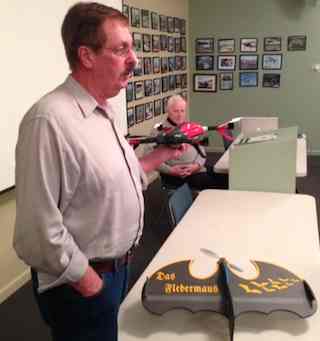 Joe also presented the Helimax Voltage 500 3D Rx-R. He noted that it has outstanding 3D flight characteristics.
John Hoover's Bat is an excellently designed flying wing. It is available from John at Flightline Hobby in Lake Orion.
Joe was going to a meeting with the FAA the following day. He asked Midwest members what they'd like him to tell the FAA representatives.
A very lively discussion followed. Hopefully, Joe got the message to the representatives of the FAA.
February 2016 Show and Tell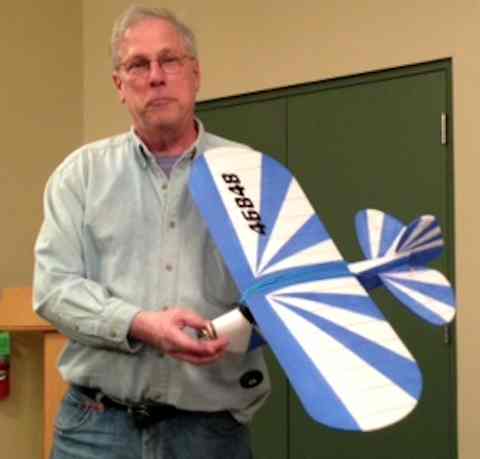 Roger Wilfong shared his all foam Lazy Cub from KensCADmodels.com.
It weighs about 150g to 160g ready to fly. He penned on the ribs with a gold Sharpie and used acrylic paint for the blue. He patterned the finish after Hazel Sig's Clipped Wing Cub. It flies well indoors.
March 2016 Show and Tell
Bill Brown shared his 1/6 Bleriot XI ARF. Even though it was supposed to be an almost ready to fly (ARF) type, Bill still had a lot of work to do on it. He changed the rigging to be more realistic and created a special battery tray, as he found the original unacceptable. He also found the plans and build notes to be quite marginal.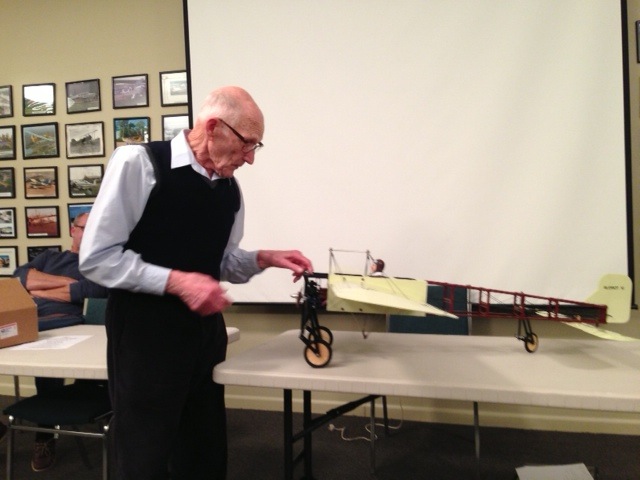 Link to this plane on Maxford's Web site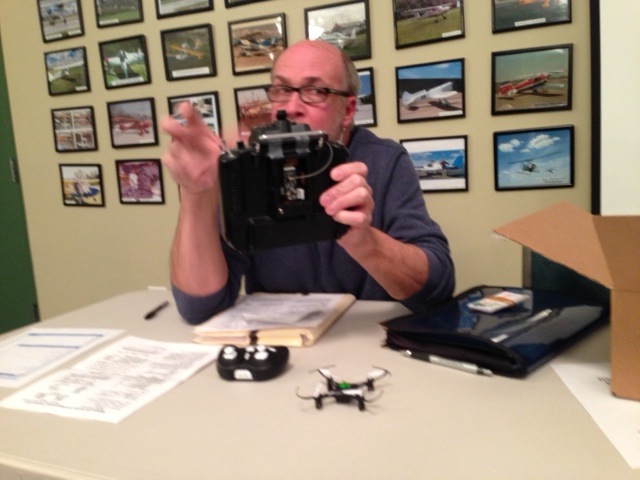 Lynn Morgan shared an electronics project. He obtained a transmitter module that could be programmed to fly many of the mini-multirotors.
He sent an email containing the following information on his project.
Quadcopter: eachine H8-mini
JR 8103 Transmitter module consisting of:
Arduino Pro Mini $3.00
nRF24 Multipro PCB: from Goebish $13.00 (interface board for voltage level conditioning and signal routing)
nRF24L01 2.4 Ghz transmitter module $8.00
April 2016 Show and Tell
Ken Myers shared his FMS SuperEZ/SuprEZ/Super EZ trainer that he will be using this flying season for student training. He has a complete review of this plane in the March and April Ampeers.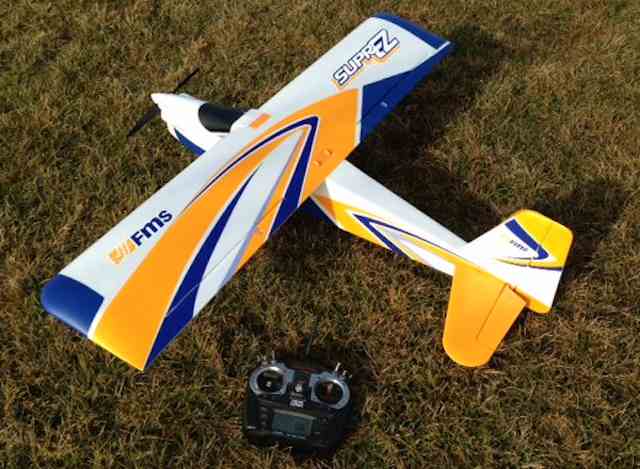 Ken Myers FMS SuperEZ Trainer
A 2 part, full review, of this plane can be found in the March Ampeer and April Ampeer.
Return to Site Table of Contents