July 2009 Show & Tell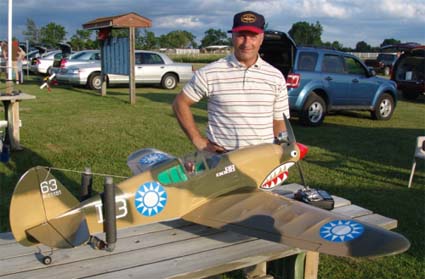 Ken Sutton's P-40 Tigershark had a great maiden flight and several other very impressive flights. Ken had the Dynaflite 55.5" wingspan plans enlarged by 130%. He then scratch built his 72" version. He just finished it on the afternoon of the meeting by adding the decals. It has 930 sq.in. of wing area and tips the scales at 9 lb/144 oz. With a RTF weight of 144 oz. it has a wing cube loading/CWL of 8.77 oz./cu.ft., which is typical for a sport plane. It is powered by an O.S. 120 4-stroke and is guided by a Futaba Skysport 6 using four servos. It flies beautifully! Great job Ken!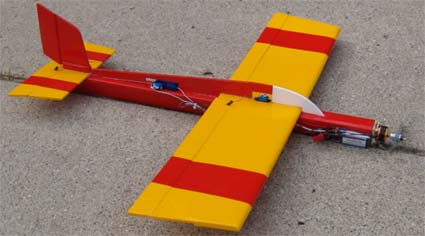 Ken Myers flew his new ModiFly. It was maidened on July 4. It flies well for an inexpensive park flyer. It is only the second one flying in the US and is based on the Carlos Reyes' new book RC AdvisorŐs ModiFly, which is the follow-up book to his successful RCadvisor's Model Airplane Design Made Easy. (www.rcadvisor.com)
A complete write-up of this plane appears in the August Ampeer. (homepage.mac.com/kmyersefo)
The Ready To Fly weights:
Completed Airframe: 110g/3.88 oz.
Power System w/ESC: 95.05g/3.35 oz.
Receiver, servos, push rods: 28.98g/1.02 oz.
Total: 234.03g/8.26 oz.
Actual Measured weight: 235.1g/8.29 oz.
Actual Measured weight w/lateral balance nails: 240.05g/8.47 oz.
Wing Area: ~174
Area Wing Loading: 7.00 oz./sq.ft.
CWL/wing cube loading: 6.38 oz./cu.ft.
(typically park flyer near heavy end of range)
Watts in (Cox 6x4) measured: 56.7
Watts in per lb.: 107
RPM (Cox 6x4) measured: 11,257
Pitch Speed: ~42.6 mph
Stall Speed: ~9.8 mph
Pitch Speed to Stall Speed Ratio: 4.35:1
A Press Release from Carlos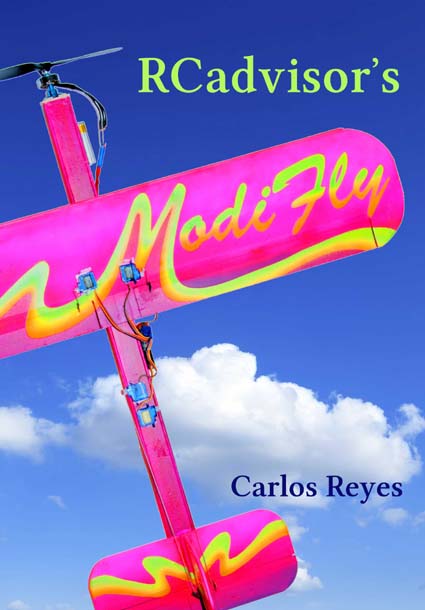 Here is some information from the author. KM
How does an original model airplane design get created?
I've always wanted to read a book that answered that question. A book that takes me by the hand and shows me how it's really done. One that tells me not just the what and the how, but also the all-important why. Since nobody had ever written such a book, I decided I had to do it myself. This is that book. Experience firsthand the joys of building and flying your very own model airplane design. Put into practice the lessons from my previous book, RCadvisor's Model Airplane Design Made Easy. Follow along as we design, build, and fly a modern radio-controlled model airplane.
DESIGN GOALS
Incorporating the latest innovations and research results, the design is deceptively simple in appearance. However, 20 prototypes and 15 hours of flight-testing were required before a design finally met all the goals:
* Build it in just one day for less than $5.
* A joy to fly with no bad habits.
* Sturdy enough to survive hard landings.
* Build either a park flyer or an indoor slow flyer.
* New pilots can fly it without ailerons.
* Easy to build for new scratch builders.
* Kid-friendly free flight glider version.
* Use inexpensive electric power systems and radio gear.
* Great starting point for your own unique designs.
You can easily find the construction materials for the airplane at local discount or craft stores. So what are you waiting for?
DESIGN PROCESS
The book starts by describing the goals and the long prototyping process that led to the final design. Along the way you get to see firsthand the challenges that creating an innovative design presents. Learn the reasoning behind all the decisions that led to this unique design.
While it is a stand-alone book, RCadvisor's online model airplane calculator and my first model airplane design book complement it nicely.
Picking up where that book left off, it takes a very pragmatic approach to the entire design process.
ADVANCE PRAISE
"This is absolutely A MUST READ!" - Bob Aberle
"I am so excited about the design that I just have to build one to try it out." - Ken Myers
"Carlos kicks out another winner with this one." - Jamie Burke
"Even if you have some model airplane design experience, you are likely to learn something from this book. I know I did." - Paul Bradley
"Carlos Reyes has done it again!" - Richard Kline
"Lots of great info!" - Michael "Crash" Hancock
"Carlos' latest book is like a well written mystery novel." - Red Scholefield
SPECIAL OFFER
The book is just $19.95. That is a lot less than the price of a new kit! As a bonus, I'm including a *free* six month subscription to the premium features of the calculator. That is a $12 value! This subscription unlocks the optimizer and all the other advanced calculator features. Current subscribers can extend their subscription for another six months with this offer.
FLIGHT PACK
As a service to the RCadvisor community, I'm making available flight packs suitable for the model described in the book. These are the same high quality components I used in all my flight-testing:
* HXT 5 gram micro servos (4 each)
* Flightmax 500 mAh 2S1P 20C LiPo battery packs (2 each)
* Turnigy 10A speed controller
* Turnigy 24 gram brushless outrunner motor
* Slow flyer 8x3.8 propeller
* Prop saver and other connectors
The price of the flight pack is just $74.95, a real bargain. Bonus: for a limited time, I'm adding an extra propeller for a total of two.
BONUS STICKERS
While supplies last, I'm throwing in free high quality vinyl stickers with every order. They are three-inch high copies of the RCadvisor logo in full color. The vinyl is only 0.002 inches thick and is self-adhesive. They look great!
<www.rcadvisor.com/products>
Carlos Reyes
www.RCadvisor.com founder
October Show and Tell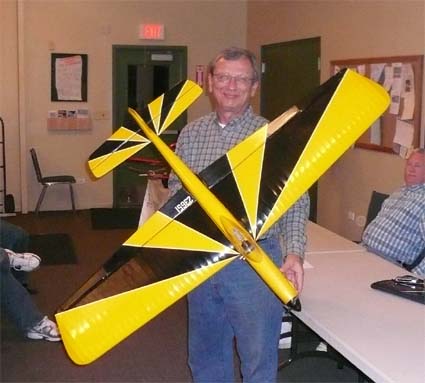 Rick Sawicki with his 1963 control line stunter recently converted from Fox .35 power to Electric Power.
Rick Sawicki presented a control line plane that he built in his college dorm in 1963. The plane had been stored since 1965 and survived undamaged in 3 house moves. The original doped silkspan covering is still intact and flyable. Construction is interesting. It is a 1959 design originated in Detroit by Bob McDonald's father, which was subsequently adopted across the country. The wing is based on an tapered "I" beam spar with 1/4" balsa strip bent top and bottom to form the airfoils section. The wing skin material continues through the fuselage.
Rick reported he had removed the original Fox 35 and replaced it with a AXI 2826-12 and a 4 cell battery. The area is 670 sq.in. and the weight increased from 47 oz. to 60 oz. The prop went from 10" to 12".
Rick made the suggestion that anyone with an old CL plane hanging on the basement wall should consider converting it to electric propulsion. Rick stated he would gladly help with conversion details.
November Show and Tell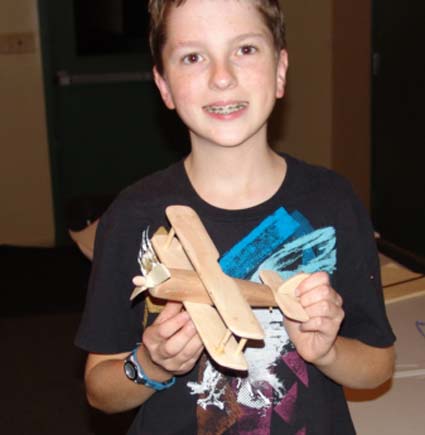 Andrew Rellinger shared the all-wood project that he had created at school in shop class. It is a beautifully crafted wooden model of a biplane. Nice work Andrew!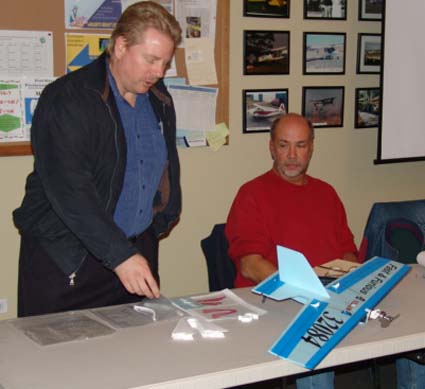 Paul Susalla showed one of the many "Fast & Furious" electric combat planes manufactured at the Markey aircraft facility. He also showed some the parts that he'd created using a special machine that actually "grows" the part from plans. Neat stuff!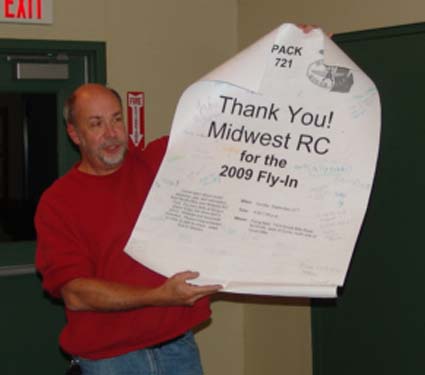 Lynn Morgan shared a very special thank you from Cub Scout Pack 721. They had a wonderful time at their outing at our field. It was signed by all the boys who attended