June 2005 Show & Tell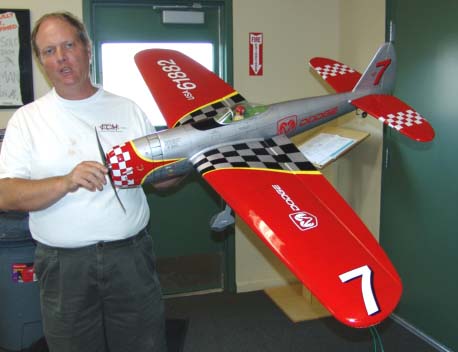 Bob McDonald shared his CL P-47 Dodge Racer that he had created from his own plans. A PA 0.65 with a tuned pipe powers it. It has a wing area of 720 sq.in., span of 64", length of 50" and weighs in at 62 ounces. It is covered with Polyspan and beautifully painted. The lettering on it has to be seen to be believed. Bob acquired laser-cut stencils and then painted on the lettering. It is remarkably crisp and readable even though much of it is very small. It is a real beauty.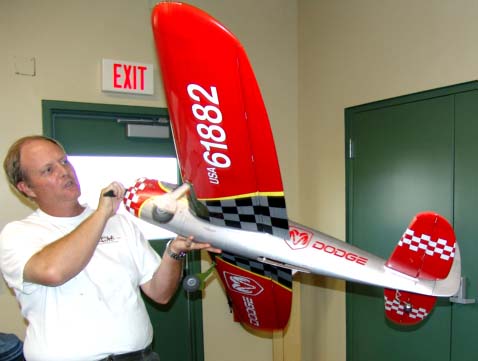 May 2005 Show & Tell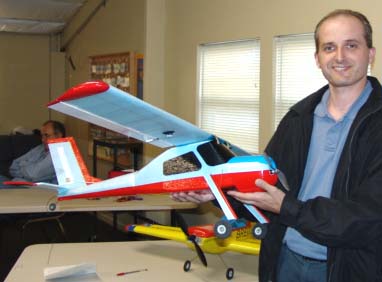 Al Alajbegovic shared two of his most recent creations. The first was a scratch built Wilga 35. It uses a Speed 400 Long Can motor, Castle Creations Pegasus 35P speed control and a 3S1P Polyquest 2200mAh Li-Po pack. It has a wing area of 320 sq.in., span of 49 inches and weighs 24 ounces.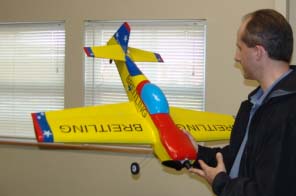 His CAP 232 has a wing area of 360 sq.in., span of 42 inches and flying weight of 21 ounces. It use an E Flite 400, Castle Creations ESC and Thunder Power TP2100 3S1P Li-Po pack. It is covered in Nelson Lite. Al thought the covering was okay, but it has a tendency to "stick to itself."