June 2006 Show & Tell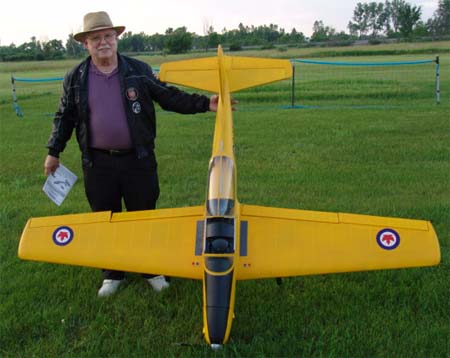 Barry Jones had beautiful 89" span Chipmunk. Barry did it up in the Canadian style adding a canopy from a Great Planes Chipmunk ARF. It is covered in Coverite with dope applied. The decals were made with tansfer paper. The 16 lb. 4 oz. plane is just about ready for its maiden flight. Barry is using a 6v receiver pack to get more torque from his servos. The cockpit is fully detailed and ended up weighing a bit more than Barry anticipated. It is well detialed including rivets and it has been "weathered" as well.
Ken Myers shared his electric conversion of the $80 ARF Low-Stik available from Hobby People. There was a photo of it in a previous Monitor that showed a red fuselage. It seems that Ken had a major brain oops and tired to fly it with the wrong plane selected on his Hitec Eclipse 7 transmitter. He had to scratch up a new fuselage and couldn't get any "true red" Monocote. Therefore he covered the "new" fuselage in yellow, a color he just happened to have. ;-)
The plane is flying at a weight of 5 lb. (80 oz.). It uses a TowerPro 3520-7 brushless outrunner and TowerPro 60-amp brushless ESC. They were purchased as a combo for $95 and shipping. He is using Skyshark 4S1P 4000mAh Li-Po batteries that he purchased for $85. He did this conversion to demonstrate that with today's cheap imports from Asia, a "40" glow size conversion does not have to cost an arm and a leg and may even be less expensive than its glow counterpart.
The onboard radio componnents consist of a FMA M5v2 receiver, HS-85BB servos on the rudder and elevator and an HS-225 for the aileron servo. Ken recommended that the HS-85BB also be used on the ailerons, but he had the 225 on hand. A SR Batteries 500mAh receiver pack completes the onboard system. Ken chose not to use an Ultimate BEC, as the extra 1.5 ounces does not affect the flyability of this plane.
Sources:
Sportsman Aviat Sport Stik 40 ARF Low Wing Aircraft, $79.99 (I had free shipping but ordered two servos and some props as well - I'm using an 11x8.5E on this plane), www.hobbypeople.net/gallery/127522.asp
TowerPro (also called BP) 3520-7 & 60-amp TowerPro (also called BP) 60-amp ESC, $86.95 plus shipping at www.bphobbies.com/view.asp?id=V672768, the Discount Motor Combos page
Skyshark 4S 4000mAh Li-Po, $84.95 includs free shipping, www.skysharkrc.com/shop/index.php?shop=1&cat=24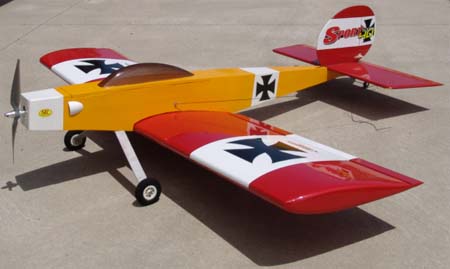 Cooling scoops required to keep the cheap ESC from overheating
July 2006 Show and Tell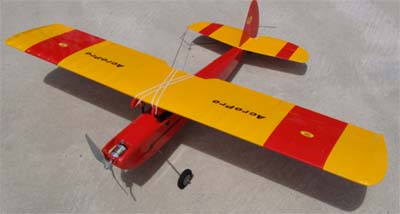 Ken Myers shared his SR Batteries Cutie updated to an AcroPro by using the conversion kit available from SR Batteries. The wing saddle was modified to accept the new symmetrical airfoiled wing with ailerons. The power system is now an Astro Flight 19 brushless direct drive motor, APC 8x6E prop, Castle Creations Phoenix 45 and Skyshark RC 3S1P 2100 15C Li-Po pack. Awesome flier.