June 2007 Show & Tell
Bill Brown purchased the Ryan S-T and Focke-WULF Stosser rubber powered models pictured below from Nankin hardware. He's going to convert them to e-power RC.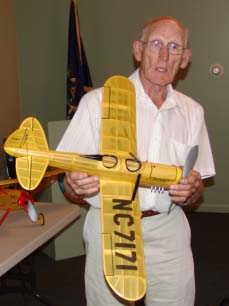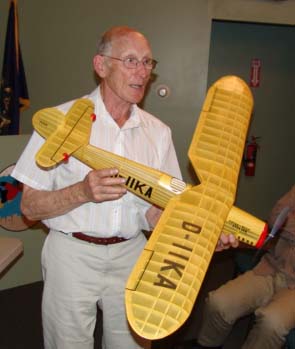 George Lemieux showed his scratch-built Headwind and did the following write-up to share on this great project.
THE HEADWIND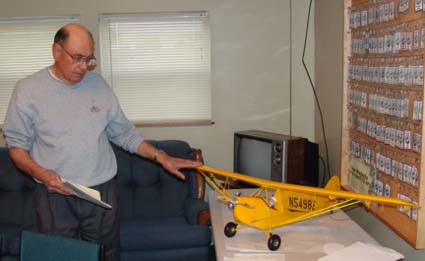 Background
About 36 years ago when moseying around Menominee County Airport I noticed a small, yellow plane with its pilot inside. Walking up to it, I enquired about the plane, and the pilot said that he had designed and built it. He called it the Headwind probably a takeoff on Steve WittmanÕs Tailwind. In 1981 I noticed an ad in the classified section of the EAA magazine for plans to build this plane. I sent for an 81/2 x 11 copy of the plans and stored them away in my basement. It turned out that the pilot/owner/designer/builder was a guy I knew in high school named Don Stewart. The full size plans are still available (see www.stewartaircraft.com for details). One day as I was flying my Pizzaz , Jim Lapham advised me that I was getting too old for such a sporty plane and should get something more suitable for my age. The Headwind came to mind, so I made plans from the factory drawings and built it at 1/6 scale utilizing all factory dimensions.
Model Specifications
Wing Span: 57 inches
Airfoil: NACA 4412 (mild undercamber)
Engine: OS 25
Cockpit: Open with windscreen
Weight: 4.25 lb.
Controls: Rudder pull-pull, elevator push-pull
Ailerons: Frieze type
Servos: Five with two for ailerons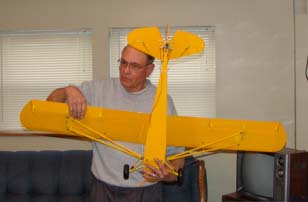 Note the ailerons
Performance
The first two flights were on June 15, 2007. It flew exactly as envisioned with no trim changes made or required to any of the flight surfaces. It showed an easy takeoff with little nose over tendency, gentle handling in all attitudes, and very gentle landings with power return to fence area. The full-scale plane is very limited in maneuvers i.e. turns-60 degrees max, Lazy Eights, Chandelle, and Spins-one turn. The model will be treated likewise.
Afterthought
With the proliferation of ARFs , schoolyard electrics, and ready to fly model aircraft, who wants to build from scratch. ItÕs unfortunately being lost with the high cost of material and the great quality of ready-made planes. However, the satisfaction of doing it yourself and having it turn out right far exceeds that of taking someone elseÕs efforts into the air.
How about a one third scale Headwind with a four-stroke twin to power it? Hmmm.
George Lemieux
Stan Spiewak brought in another of the small helicopters he has been sharing with us for the last several months. This one looks a whole lot like a "bug", yet flies quite well.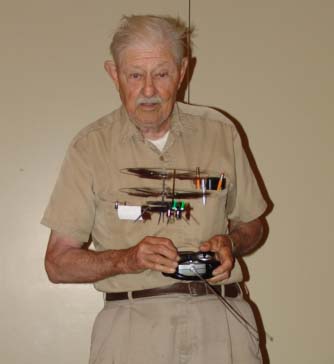 August Show and Tell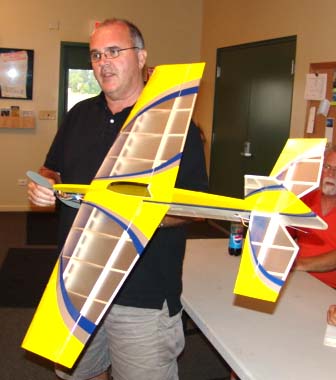 Greg Mason showed his AeroWorks Extra 260 EP-3D, which is powered by an AXI 2408/34. It has a wingspan of 37-inches, wing area of 375 sq.in. and flying weight of 16 ounces.
Ken Myers showed the DeWalt DC9360 pack that he purchased on ebay for $114.95 delivered. The pack contains ten of the M1 cells distributed by A123 Systems and manufactured by China BAK. He had taken the DeWalt pack apart and showed the members how the cells were harvested.
He is currently using six cells from this pack in a "40-size" conversion that he will be sharing with the members at the September meeting. These are great cells to uses for sport and sport scale planes requiring 300 watts in or more.