April Show and Tell
Rick Sawicki had two more electric control line models to share.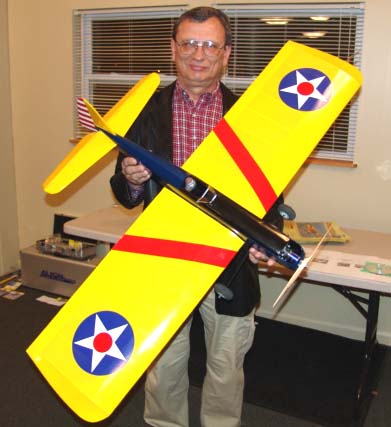 The first was a Brodak 1949 Viking. It is powered by a Hyperion 3019-10, Polyquest 3S1P 3700 mAh Li-Po, and Castle Creations Phoenix 45. The RTF weight is 36 ounces with a wing area of 570 sq.in. It is a U-control stunt plane coverd with Nelson Lite film. Rick felt that the plans and wood quality were excellent.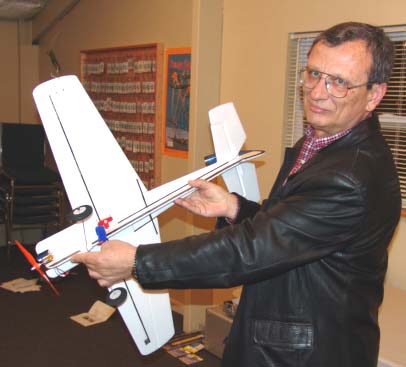 His second plane is a Hobby Lobby flat foamie YAK converted to control line. It is all foam and Rick thought that the planes were good. It is now a control line stunt that was a super simple electric conversion. It uses an Eskay 400 outrunner, Polyquest "20" 850mAh 3S1P and Phoenix 25 controller. For the control line bellcrank, Rick got a little creative and used a servo horn. Neat idea!

Rudi Reinhard shared and showed his T-Rex electric helicopter. His version has a Neu motor with 35-amp speed control, 3S 2100 Li-Po battery and gyro. It flies very much like a full-blown chopper, which it is. It is not a trainer or "easy fly" type.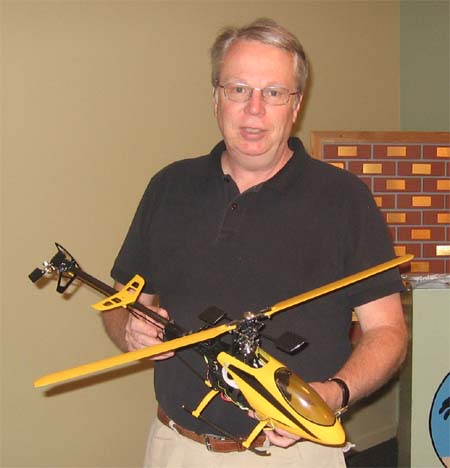 Rudi with his T-Rex