March 2013 Show and Tell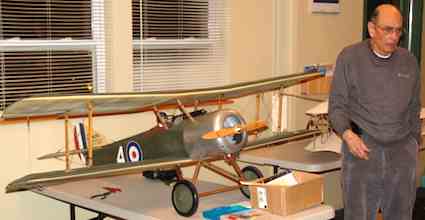 George Lemieux brought in is big, beautiful Balsa USA 1/4-scale Sopwith Pup. He noted that it is not a true scale model. The engine is too far forward and the wheels too big. He didn't care for the joining rods between the top and bottom ailerons and change the aileron control to a pull-pull type of setup. He still has a lot of work to do on the model including the flying wires. He noted that the kit is still die cut and that the balsa wood is not of the best quality.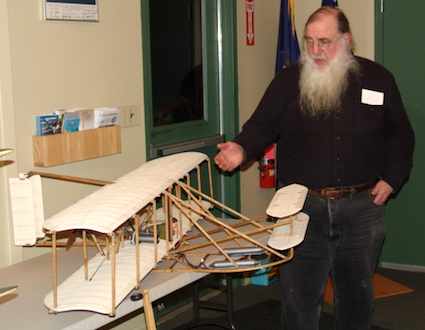 Keith Shaw shared his version of Radical RC's 1905 Wright Flyer. Keith has added a lot of details including a dummy engine, pilot, motor chain drive and 'cross country tanks' containing the A123 2300mAh cells that drive the brushless motors. He said that the wing warping works very well. He has made a dolly for dolly launching the model. The dolly is steerable and works very well.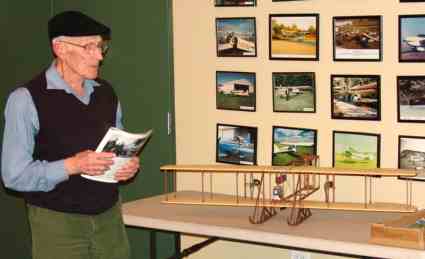 Bill Brown also shared a Wright Flyer but his is the Model B version. Jim Young helped Bill with the CAD plans and Mark Freeland, of Retro RC, did the laser cutting. He has had a lot of help on this project and has gathered a huge amount of information on the full-scale plane. It is built to 1/10 scale.
Bill has the basic dummy engine completed but it still needs more detailing.
His version is based somewhat on the Vin Fiz version. Vin Fizz was a soda pop that sponsored a cross USA flight of this type of aircraft.
Bill has sat in and photographed the full size recreation in Dayton, OH. He has signed up to take a flight in the replica when the winter weather breaks.
In creating this model, he has spent the most amount of time on research.
April Show and Tell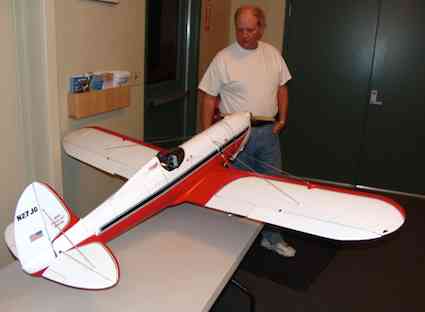 Bob McDonald brought in a completed Sig Ryan STA. It is a very beautiful model with great detailing. The photo hardly begins to do it justice. It weighs in at about 9 lb. The engine is a Surpass 60 4-stroke. It is Covered with Coverall rayon and dope and the fuselage is fiberglass. It is finished with car paint with clear uruathane on top.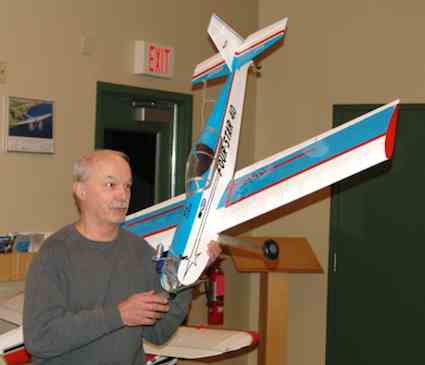 Mike Russell brought in one of the six planes he completed this winter. It is a Sig 40-Star 40. It uses a 4-stroke Magnum .52 2-stroke engine. Mike looks for what works for him and really enjoys scratch-building.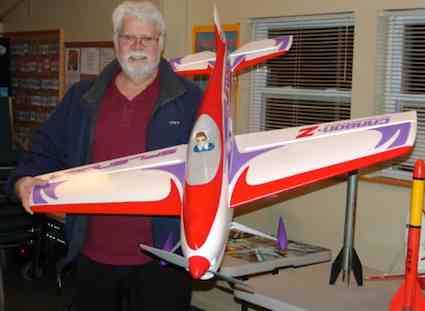 Paul Sockow shared his brand-new E-flite Carbon Z Splendor. It uses a 50-size motor and 6S 4000mAh Li-Po pack, so there will be plenty of power in this 650 sq.in. model. The wing attaches with 4-bolts and one bolt attaches the tail. It comes with a Spektrum Rx with the A3X gyro. It only took an hour to assemble. Everything for $445.