May 2009 Show & Tell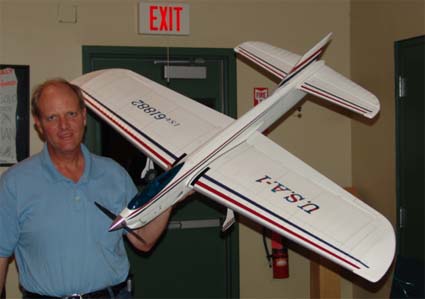 Bob McDonald finished up his USA-1 classic control line plane. It is finished with aircraft dope and tissue. It was then painted with automotive paint with a polyurethane overcoat. We saw this plane in the barebones earlier this year when Bob talked to us about control line planes.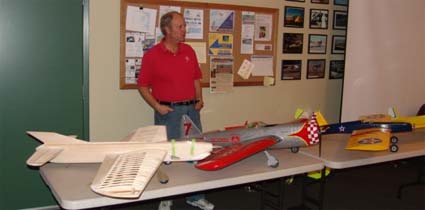 The USA-1 can be seen in barebones in the photo above. The original was featured on the cover of Flying Models many years back when it was an extremely "winning" plane. It is an absolutely beautiful model!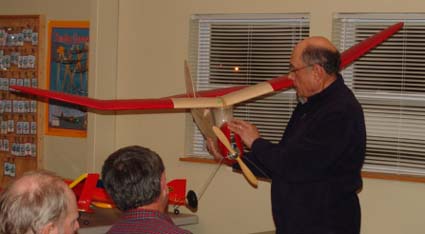 George Lemieux brought in his version of the 1939 New Ruler. It is a beautiful reproduction of the Henry Struck design that first appeared in the April 1940 Air Trails. George had the article available with his model. It was kitted by Megow for a while, and George also brought in several old Megow and Scientific publications to share.
He said that he got his first taste of old-timers when he flew at the Detroit Aero Modelers club (DAM) in Society of Antique Modelers (SAM) events. He thought the SAM type event was a lot of fun and wanted a "new" old-timer.
The original New Ruler was a 74" Free Flight model. George has updated it to 3-channel RC. He scratch built is from John Pond plans. It is of all stick construction and covered with Polyspan. An antique Olsen .60 graces the front end at this time. He plans on putting a "modern" 4-stroke in it to fly it.
He found it difficult to cover because of the various shapes in the design. He entered it in the Old-Timer category at Toledo this year and took home second place. Congratulations George!
George also shared a letter that he'd received from the designer, Henry Struck, several years ago. In the letter, Henry described what all of the original initialing on the plane meant.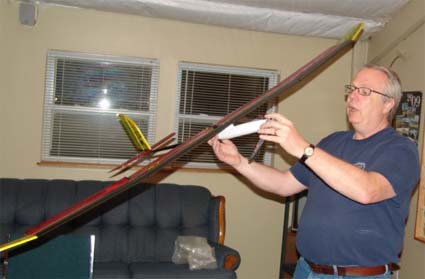 Rudy Reinhard brought in his new, high performance F5J ARF glider. It is produced by F5 Models in Czechoslovakia. It spans 78 inches with a wing area of 496 sq.in. The ready to fly (RFT) weight is 24.2 ounces yielding a wing loading of 7 oz./sq.ft. or a wing cube loading of 3.78 oz./cu.ft. The onboard electronics include a Spektrum AR6200 receiver, 4 JR DS285 servos and a DS285MG servo, a Castle CreationÕs Phoenix 25 and Hacker B20-15L geared 4:1. The prop is a Robbe CFK 12x7.5. The power is supplied by a Thunder Power 3SPL 1320mAh pack.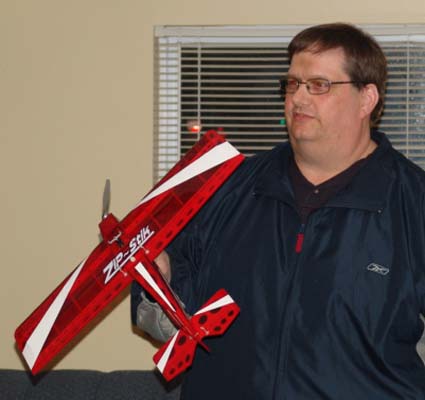 Danton Berube brought in his Shulman Aviation Zip-Stick ARF. His version of this 24" span plane weighs 6-3/4 ounces RTF. He took it to SEFF with him, and another pilot flew it there. It flies very well and he's looking forward to flying it himself.
(shulmanaviation.com/products/zipstick.asp)
Ken Myers brought in two finished planes. The first one that he shared was an ARF (almost ready to fix) that he purchased from Hobby People. It is a Model Tech Fledgling Gen-II mid-wing trainer.
Measured Specifications:
Fuselage length: 38.125"
Wingspan: 56.125"
Root chord: 9.625"
Tip chord before rounded tip starts: 7.5625"
Wing Area: 469.5 sq.in.
RTF weight: 40.3 oz.
Area wing loading: 12.4 oz./sq.ft.
CWL/wing cube loading: 6.85 oz./cu.ft.
Motor: TowerPro 3015-7 supplied with kit
ESC: Castle Creations Thunderbird 54
Battery: 3S1P "A123" 2300mAh
Prop: APC 12x8E or APC 12x6E
Servos: 2 Hitec HS-80 1 Hitec HS-81
Receiver: Spektrum AR500 2.4Ghz
Even though it comes with a TowerPro electronic speed control (ESC), Ken could not figure out how to set it up the three "A123" 2300mAh cells that power this model, so the Thunderbird 54 was used.
The ARF kit has some flaws that are easily overcome. Ken has a full write up on this model in the June 2009 Ampeer.
homepage.mac.com/kmyersefo/ampeer.html
It was test flown at the Midwest field on a very windy Saturday in early May. It flies very well and was able to handle the wind very well. It is going to be an excellent trainer!
Link to plane at Hobby People: www.hobbypeople.net/gallery/123506.asp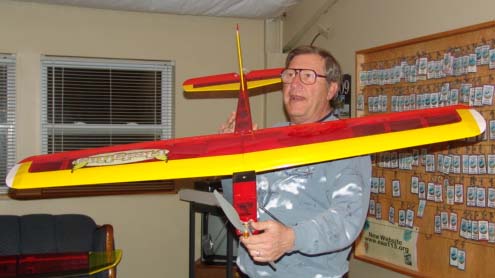 His second plane was the self-designed Fusion 380 sport plane. Ken used the original plans from the ElectroFlying Fusion to create this model. He used his CAD program to reduce the original plan to 82% of the original. He made the appropriate changes in wood sizes and design to fit his needs. He actually built the vertical stabilizer and rudder here at a meeting when he was doing his "Building on Glass" presentation.
Specifications:
Wing area: 375.5 sq.in.
Wingspan: 47.5 in.
Length: 34 in.
RTF weight: 39.78 oz./ 1127.8g
CWL/wing cube loading: 9.45 oz./cu.ft.
Wing area loading: 15.26 oz./sq.ft.
Motor: Scorpion S-3020-11 (special wind - 1220Kv)
ESC: Scorpion Commander V2 45 amp
Battery: 3S1P "A123" 2300mAh
Prop: Master Airscrew 10x8 G/F 3 Series
Servos: 3 Hitec HS-82
Receiver: FMA Extreme 5 72MHz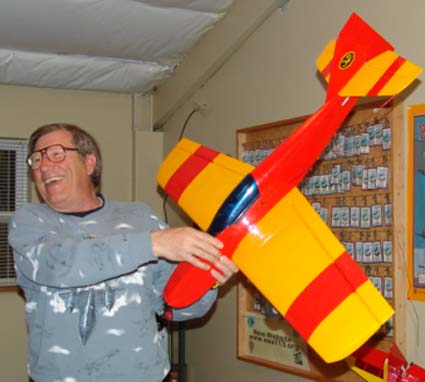 The Fusion 380 flies almost exactly like the larger, 6S1P "A123" 2300mAh, AXI 4120/18 powered ElectroFlying Fusion. It is an excellent flier and extremely fun to fly. Ken LOVES those super fast Zip charges using the "A123" 2300mAh cells!
Build Thread for the Fusion 380: www.rcgroups.com/forums/showthread.php?t=990241
Link to ElectroFlying Models Fusion: www.electroflying.com/fusion.html
June Show and Tell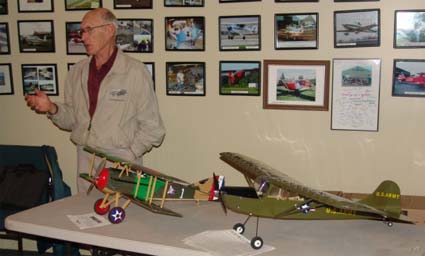 Bill Brown picked up a couple of planes while attending the Toledo Expo this year. While he "normally" prefers to build his own planes, both of these are ARF type models. The L-19 Bird Dog was $140 for the whole thing. He installed Hitec HS-55 servos and it uses a 3S1P &quoit;A123" pack instead of the intended Li-Poly pack.
The biplane is a Great Planes SPAD XIII WWI Parkflyer EP ARF by ElectriFly. It has a wingspan of 34-inches and wing area of 390 sq.in. It has a RTF of 22 oz. to 25 oz. depending on battery used. The motor is a RimFire 28-39 950 outrunner. With a RTF weight of 25 oz., it has a wing cube loading/CWL of 5.61 oz./cu.ft. putting it into the Park Flyer category.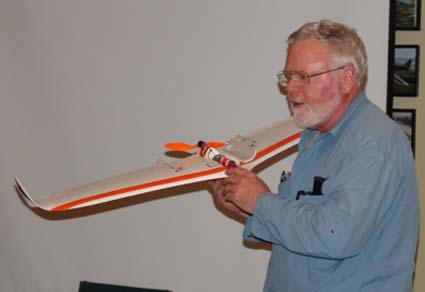 Jim Cross brought his Zagi Fixx out of retirement and has shoehorned in 3S1P 1100mAh "A123" pack into it. He really likes the "A123" cells because they hold their power so well right to the end of the discharge. He replaced the original brushed motor with a new, brushed motor with a heat sink.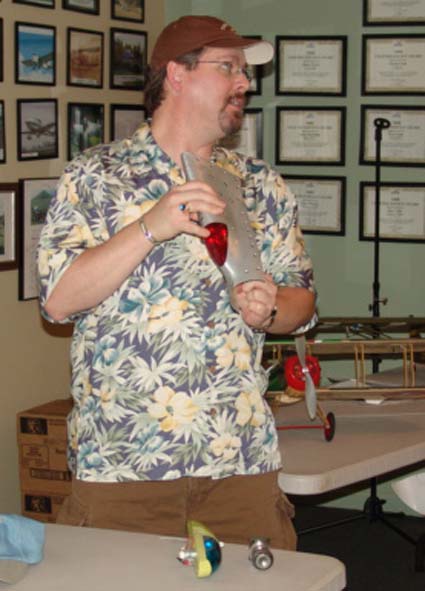 Rob Richards brought in some interesting aviation objects. The silver object in his hand is the wing tip from F-15. The greenish object on the table is a navigation light from a F-16. The trunnion bolt on the table is from one of the space shuttles and has been into 4 times.