November 2006 Show & Tell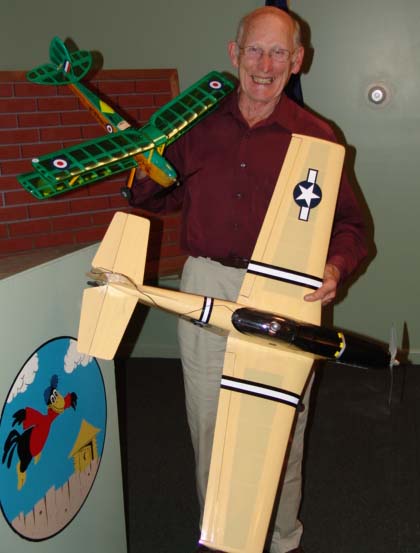 Bill Brown showed two of his planes.
His Green A.C. Models Tiger Moth was purchased from Radical RC. He felt that this little ARF needed a lot of work but the wood quality and parts fit were excellent while the instructions needed improvement. He is using one of the little Berg 4-channel receivers in it. The motor is a HiMax HC2208-0870. It weighs 8 ounces ready to fly and uses a 3S1P 340mAh Li-Po to power the plane and radio system.
Bill's Herr kit P-51 has been around for a while and now has a power upgrade to a brushless Hacker outrunner and 3S1P 2100mAh Li-Po with a Castle Creations ESC. It is covered with Nelson Lite Film, weighs 28 ounces and has 360 sq.in. of wing area. He noted that it is fast!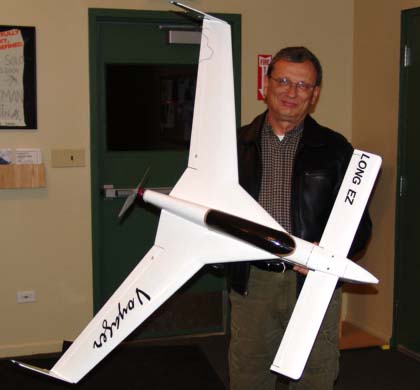 Rick Sawicki showed hid Long EZ from Nitro Planes.com. It has a 55 inch wingspan and 447 square inches wing of area. The kit comes with a 480 type brushed motor which was replaced with a Hacker 30-28. A Thunder Power 3S1P 2100mAh Li-Po is used. The total weight is 36 oz. The airplane kit was highly modified. The original plans had the wings glued in and not removable. This would have caused a transportation problem. The wing and top of body were joined and made removable from the body bottom and front canard. The wing is still a "pain" to move due to the tip rudders constantly hitting something!!! In addition the original had a fixed front steering gear strut. This was made steerable with a mini servo in the nose.
There has been one flight made so far. The Voyager looks great in the air but is very nose heavy and reacts slowly. A rebalance of all of the components is in process prior to the next flight.
December 2006 Show & Tell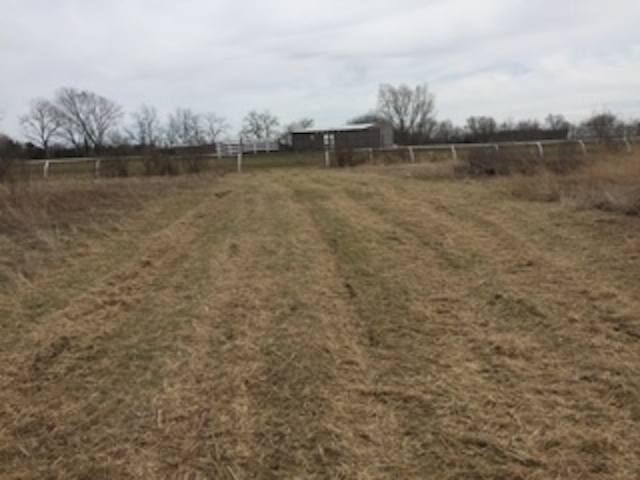 Ken Myers showed his Sonic 500 conversion to electric power and talked about the Jeti Spin 44 ESC and the Jeti Spin Box. You can read a full report at: www.rcgroups.com/forums/showthread.php?t=604271.
Stan Spiewak showed off his little IR controlled Radio Shack helicopter and had a ball flying for the folks, although a few of the officers had to duck a bit. ;-)