August 2006 Show & Tell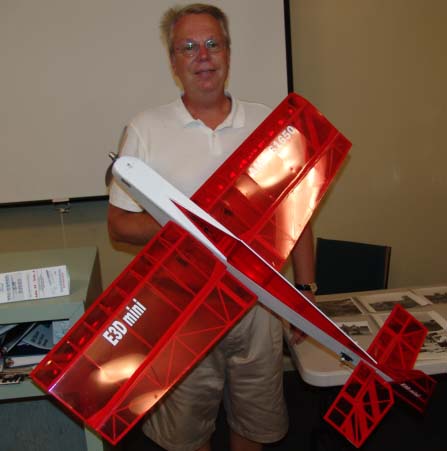 Rudi Reinhard shared his Gary Wright Model Products E3D Mini (kit). The 380 sq.in., 20 ounce plane is powered by a Hacker A20-12L using a CC Phoenix 25 amp ESC and a 3S 2100mAh Li-Po battery. A Berg 5-FM tells the JR 241 (2) and JR DS285 (2) servos what to do. It is very exciting to fly with only a 7.6 oz./sq.in. wing loading. The prop is an APC 10x4.7SF (slow fly). It looks just like his larger, E3D.

September 2006 Show & Tell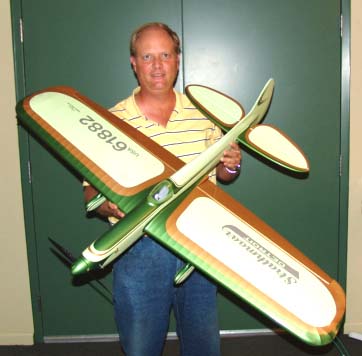 Bob McDonald shared his absolutely beautiful, scratch-built, classic Strathmore Stunter contol line model. It was designed by his father, Rolland, in 1960. It is covered with Polyspan and slikspan with a dope base. The green colors are done with automotive paint that has been clear coated.
A PA .40 Light powers the 54" span, 600 sq.in., 46 ounce plane. Bob will be using it to compete in classic control line aerobatics.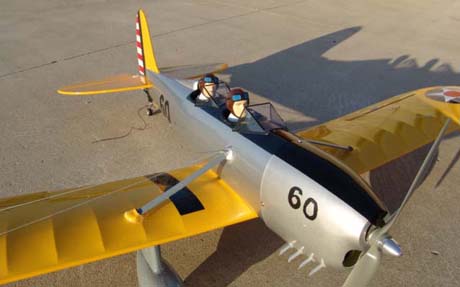 Ken Myers shared his Hobby People/Global Ryan STA. You can find out everything you'd like to know about this HORRIBLE ARF by reading his build thread at RC Groups;
www.rcgroups.com/forums/showthread.php?t=557165
October 2006 Show & Tell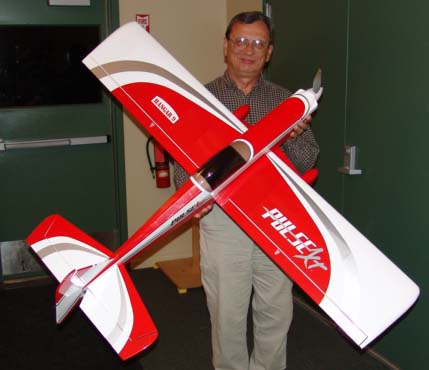 Rick Sawicki shared his Hangar 9 Pulse XT. It is a sport/pattern type plane with a wing span of 61", wing area of 670 sq.in., weight of 5 lb. 6 oz. and is powered by an E-Flite Power 46 BL outrunner. The E-Flite motor is paired with a Castle Creations Phoenix 45 and a Poly-Quest "Twenty" 4S1P 3700mAh Lithium Polymer battery. It is turning an APC 13x8e and pulling 43 amps static on the ground. Rick notes that the plane flies great. The plane is capable of going straight up at full power but his normal flying is using about 3/4 of the power available.
Rick noted that the construction and design are excellent and that this plane can be powered with a glow 2-stroke or 4-stroke as well as an electric power system. All the parts for either type of plane are in the ARF kit. So far, the only slight flaw found is that the magnetic tank/battery hatch has come loose in flight and fluttered to the ground.