September 2007 Show & Tell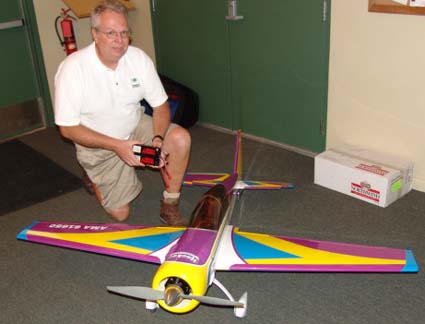 Rudi Reinhard showed his 3D YAK-54 (ARF) from Quique's Aircraft Company. It has a span of 73 inches, length of 69 inches and wing area of 1048 sq.in. It weighs in at 13 pounds 6 ounces (214 oz.) which gives it a wing loading of 29.4 oz./sq.ft. or a cubic wing loading of 10.9 oz./cu.ft. The onboard radio system consists of a JR 649-SPCM receiver, 2400mAh 2S Lithium Ion receiver pack and 4 JR DS8411sa servos and a Castle Creations Phoenix HV85 (v1.55) ESC. The power system includes a Hacker A60 20M, and 2 Thunder Power 5000mAh 5S packs in series turning an APC 21x14E prop.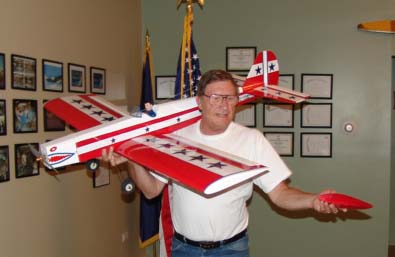 Ken Myers showed his very inexpensive "40-size" electric conversion of a plane that Dymond RC was selling on special.
The finished plane specifications are:
Wingspan: 54 1/16"
Wing area: 615 sq.in.
Fuselage length: 51.25"
RTF Weight: 87.3 oz.
Wing Loading: 20.4 oz./sq.ft.
Cubic Wing Loading: 9.89 oz./cu.ft.
Initial Center of Gravity: ~3.5" from the wing's leading edge
Motor: TowerPro/BP Hobbies 3520-7
Prop: APC 12x7 sport
Prop disk loading: 111.15 oz./sq.ft of disk area
Battery: 6S1P M1 (A123 systems) harvested from DeWalt DC 9360 pack
Motor data using APC 12x7 sport prop
Maximum RPM: 9390
Static Maximum Amps: 35.8
Static Maximum Watts: 643
Watts in/lb.: ~117
Theoretical pitch speed: 62.2 mph
Theoretical Stall speed: 16.7 mph
Pitch speed to Stall speed ratio: 3.7:1
Onboard radio system:
ESC: Welgard 65-amp brushless
Sombra Labs Shadow 3 7-ch receiver
BP Hobbies 4-cell 700mAh NiMH pack
3 each Hitec HS-225BB
Transmitter:
Hitec Eclipse 7 7-ch

Who is this plane for?

This would be a very good low-wing trainer for someone who has soloed on a high wing trainer at a regular AMA flying field. It is not a park flyer. It is gentle and extremely easy to fly with no surprises for a pilot with good high-wing four-channel experience.
It is for someone who wants to create a "40-size" model on the cheap. The plane was $50 plus $19.99 for shipping. The DeWalt battery pack was $114.98 delivered from an ebay supplier. There were 4 cells left over for another project making the cost of the pack's cells $68.98 plus the cost of a balance plug, power wires and connectors, which means in the low $70 range. The BP Hobbies 3520-7 now lists for $37.95. It can also be purchased from United Hobbies in Hong Kong for $25.00US and the BP Hobbies 70A ESC (equivalent to Welgard in this review) goes for $35.95 on August 26, 2007.
It's for someone who wants to have fun flying basic pattern type maneuvers with a gentle yet responsive plane.
I like it.


Sources:


Dymond RC www.rc-dymond.com
United Hobbies (Hong Kong) www.unitedhobbies.com/UNITEDHOBBIES/store/uh_index.asp
BP Hobbies www.bphobbies.com/view.asp?id=V815101

A full review w/video can be found here:
www.rcgroups.com/forums/showthread.php?t=735972

October Show and Tell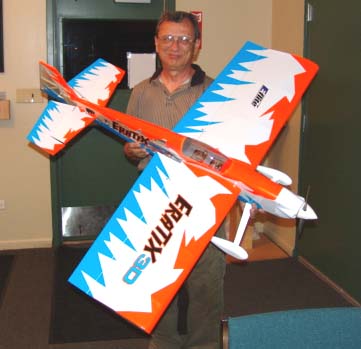 Rick Sawicki shared his Eratix that is an ARF by E-flite. It has a wing area of 700 sq.in. and weighs 49 oz. ready to fly. The power is an E-flite Power 32 brushless outrunner with a 4S Li-Po battery and Castle Creations Phoenix 60 electronic speed control. The servos are Hitec 225's all around. An APC 13x6.5E prop used with this system pulls 39 amps. Rick flew it for the first time on Wednesday afternoon before the meeting and really likes it a lot!
November Show and Tell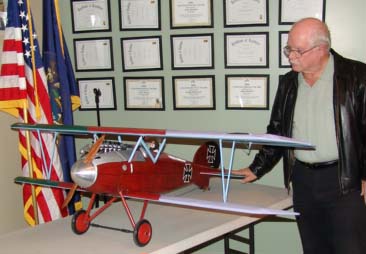 Barry Jones shared his beautiful Albatross DIII and sent along the following write-up about it.
ALBATROSS DIII
This is a German WWI plywood fuselage fighter. During the few months that it was in service the allies lost more planes than any other time of the war. It had an in-line 6 cylinder 160 h.p. engine, stream lined plywood fuselage, and twin forward firing machine guns.
This is a 1/6th scale kit from Fun Aero RC (www.funaero.com) Company in South Carolina. The kit states a finished weight of 9.5 lb. to 10.5 lb. using an OS 91 four-stroke engine.
The wood in the kit was very good; the part cutout is excellent due to being laser cut. The plans are greatly out of scale and are used primarily as reference. For wing rib spacing, a gauge is supplied. Due to most kits actually building over the stated weight; the latest OS 91 engine is now a pumped engine which is higher priced and has some quality issues with the pump; the only prop that can be used is an APC 15x6; and that I prefer Saito, so I decided to use a Saito 100 engine.
The Saito Engine is 1/4 inch longer to the thrust washer than an OS 91. Rather than sink the bulkhead, I planned to lengthen the cowl because biplanes usually are tail heavy and I planned to keep everything I could forward of the CG.
The kit had the fin un-sheeted, but the stabilizer sheeted. This is opposite to the actual airplane and I felt would only add to a tail-heavy plane. I sheeted the fin and designed a new stabilizer wrapping balsa strips around a form and making an open structure.
The kit shows no elevator, rudder, or motor servo locations or controls. To keep all weight as much forward as possible, I used 2 side-by-side 6 oz. fuel tanks and designed a pull-pull for the elevator and rudder. The 2 elevator servos are right behind the fuel tanks. To keep the rudder servo forward, I designed an upper hatch, which allowed the rudder servo to be mounted above the elevator servos, and allowed the motor servo to be in the upper hatch area also. This hatch carry's the dummy engine and also disguises the remote glow plug and fuel filler.
To provide some cooling to the engine, I designed internal baffles in the cowl, added 2 non-scale intake slots in the front and 4 exit slots in the bottom of the cowl.
The kit wing had two 1/4" basswood upper and lower spars, a 1/2 inch balsa front edge, and 1/16" balsa upper and lower trailing edge. I added 1/16" balsa shear webs to the spars and 1/8" diameter Bamboo diagonals in each rib bay from the spar to the trailing edge to increase the overall strength.
The fuselage is fully sheeted with 1/16 balsa. I used talcum powder and dope to fill the grain. All painting used Rustoleum paint in spray cans and a finish coat of clear urethane, also from a spray can. To achieve a plywood type finish, the fuselage was painted red, panel lines are marked with a marking pen, Minx gel stain was applied in each panel and dry brush removed after 3 minutes.
The wing colors and patterns are scale though the actual hues are what are available from Rustoleum paints. The separation lines were softened by using construction paper masks left loose at the edge separations.
The German crosses were outlined with masking tape and sprayed white then re-outlined and the black sprayed.
There is only one prop with a thin enough hub to allow the prop nut and prop jam nut to be used. The only prop to work is an APC 15x6 prop. The spinner has to be cut for prop clearance, drilled and tapped for 8 #4-40 attaching screws.
The airplane was suspended to check the CG , and 14 ounces of lead was required under the engine to bring it into balance, even with all of the changes I made to keep everything light and forward. The finished weight resulted in 11 lb. 10 oz. That is a full 18 ounces over the kit maximum estimate further justifying the Saito 100 engine.
Running the calculations for the model and using the total wing area resulted in a wing loading of 25.5 oz./ft. sq. and a cubic loading of 9.5. If you use only half of the lower area the wing load goes to 32 and the cubic load go to 13 both acceptable for a scale model.
I just finished the airplane so no flights have yet been made.
December Show and Tell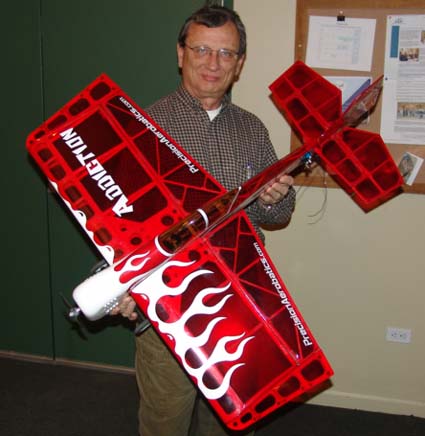 Rick Sawicki showed his Addiction 3D ARF, which he purchased from Atlanta Hobby. The kit is produced by Precision Aerobatics in Australia. He purchased the recommended power system, which is a Thrust 20 outrunner and 30A ESC, directly from Precision Aerobatics in Australia (). The outrunner features a built in fan to keep it running cool. Power comes from a 3S 2100mAh or 2200mAh Li-Po pack. Ready to fly it weighs about 26 oz. or 27 oz. It has a wing area of 485 sq.in., which yields an approximate 7.9 oz./sq.ft. wing loading or a cubic wing loading of approximately 4.4 oz./cu.ft.