Helicopter Frequencies 21, 27, 29, 39, 41
Sailplane Frequencies 11, 12

Reminder: Please get any information you want in an upcoming Monitor to Ken by the 15th of the Month.

Important Reminder!!!
With Spring on the way, be absolutely sure to check the Web site for the entrance road and flying field status before heading out to the flying field

The 7 P.M. Aviation Video

A soaring video was shown before the meeting this month.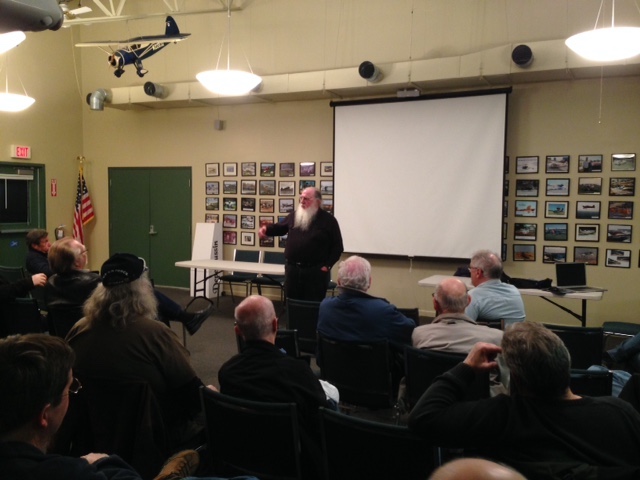 Presentation: Some U of M Contributions to Autonomous Flight
by Keith Shaw
The University of Michigan, and Keith have had quite a slow flight history.
Keith's involvement as test pilot for some of these projects started with a 12' span, twin boom pusher. The data from his flights helped in the early computer programming for total autonomous flight.
A design known as the "Flying fish" was used to mark one spot on the ocean for a long time. The U of M team was one of many that competed for the contract. They were actually the only team to have a system that worked, but it was shelved for now.
Keith and the U of M team have also worked on problems associated with the type of aircraft known as Span Loaders. These electrically powered aircraft, with pods designed to hold various data collecting devices, have spans larger than 747. In their missions, they act like low altitude satellites.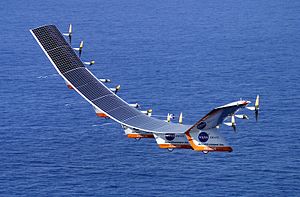 Helios is a well known version of this type of aircraft.
Unfortunately, some of the modified Helios aircraft would have problems and they would break up while on a mission.
The aircraft would go into some very weird oscillations before the break up. The aircraft were grounded because of oscillations.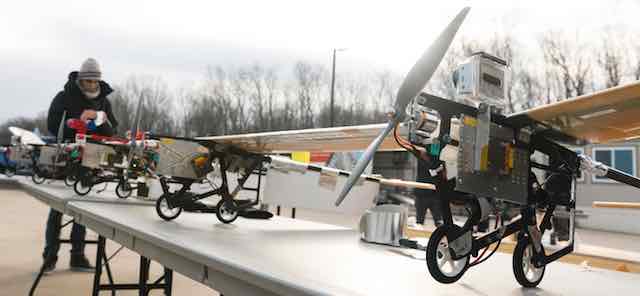 A U of M team developed a model of a similar plane, known as X-hale, to study what was going on to cause the oscillations.
Keith found the prototypes extremely difficult to fly. He said that you have to think way ahead of any maneuver that you intend to perform.
The team finally solved the problem of the oscillations. Too much weight had been added to the center pod of the Helios aircraft for operations where sunlight might not provide enough energy from the photoelectric cells.
Once the team redistributed weight in their model, the exaggerated Dutch roll stopped.
Full instrumentation flights will be made on the X-Hale this coming spring.
Keith said that there are several groups working on many different projects at U of M that involve 'models' and even prototypes.
Many of the students design their own projects and build their own planes.
He noted that there is really a lot of great aviation related work going on at the University of Michigan.
Return to "What's In This Issue"
The Meeting Meeting
Roger Wilfong, club president, called on the officers for their reports.
Members may donate USABLE items for the sale with all of the proceeds going to the Friends of the Field fund.
The donated items will have no prices on them, thus a Priceless sale. No reasonable offer will be refused.
The sale will start at 9 a.m. on the Saturday and Sunday of the event.
There will also be a designated Tailgate Swap Shop area. Anyone may bring items to the Tailgate Swap Shop. There is no 'table' charge, but anyone who is not a member of Midwest could pay the requested $5 donation upon entry to the event.
Lynn Morgan, club secretary, noted that we are at 38 members as of the March meeting, which is a little behind last year's 40 members at this time. We end last year with 52 members.
Dave Stacer, club treasurer, stated that the rent and domain name registration had been paid.
Al Govan attended the meeting as a possible new member.
Larry Markey said that the glider fun competition would once again be on Tuesday evenings at the flying flied. Last year there were 12 pilots who participated in this weekly fun-filled event. The majority of the pilots were flying Radians.
Larry noted that it is a lot of fun and there is a wonderful time to socialize after flying.
There are really no limits on what can be flown in the friendly competition. The idea is to stay up exactly 6 minutes followed by a spot landing. Points are deducted by landing too early or too late.
We really want everyone to come out and have fun with a great bunch of guys.
Return to "What's In This Issue"
The March 2018 Show and Tell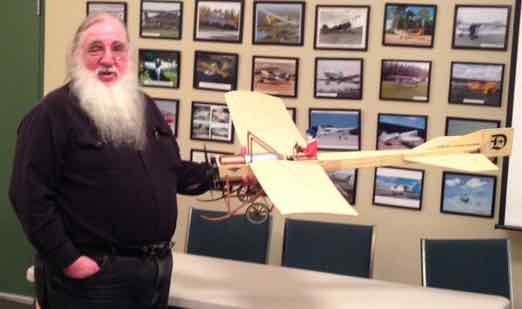 Keith Shaw shared his recently completed Sig 1910 Deperdussin.
The plane has a wing span of 49.5" and wing area of 479.8 sq.in. Keith has it powered by a 2S A123 1100mAh pack and a Cobra 2204 outrunner. As always, Keith had add his own special touches to it including its own special carrying case.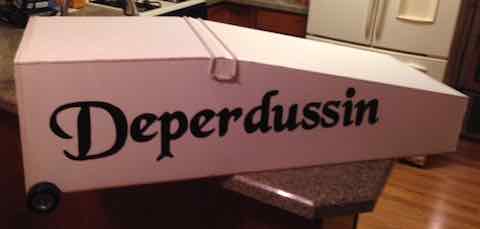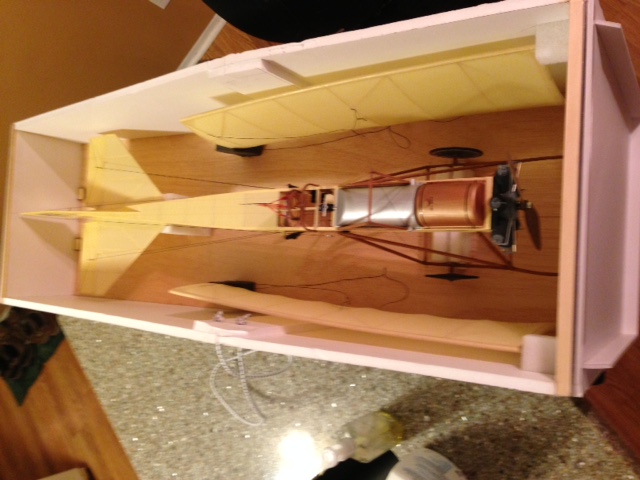 Return to "What's In This Issue"
2017/2018 Indoor Flying At the Ultimate Soccer Arenas, 867 South Blvd., Pontiac, MI
Via email from Fred Engleman
Fall is upon us and we are seeing some of our best flying weather outdoors. But soon the cold winds of change will be upon us and we should begin thinking about getting out our indoor planes and batteries out and checking them over.
Skymasters has almost everything in order for a great 25-Week Indoor Flying Season, beginning on Tuesday, October 24 at Ultimate Soccer Arenas from 10 AM to 1 PM.
Flying is from October 24 through April 10.
Our pricing has remained the same as last year:
Season Pass for all 25 Flying Dates - $110
5-Session Punch Card - $35,
Single Flying Session - $10
You can sign up online now.
What's new this year: Mark Freeland is planning on conducting a build class on one of his indoor new planes. That should be fun we will keep you updated when the details are complete.
Don't forget to support our "Local Hobby Shops", because they support us all year!
We have attached a flyer from FlightLine Hobbies listing its Free Fall Seminars. Come down and enjoy.
Hope to see you soon,
Fred E.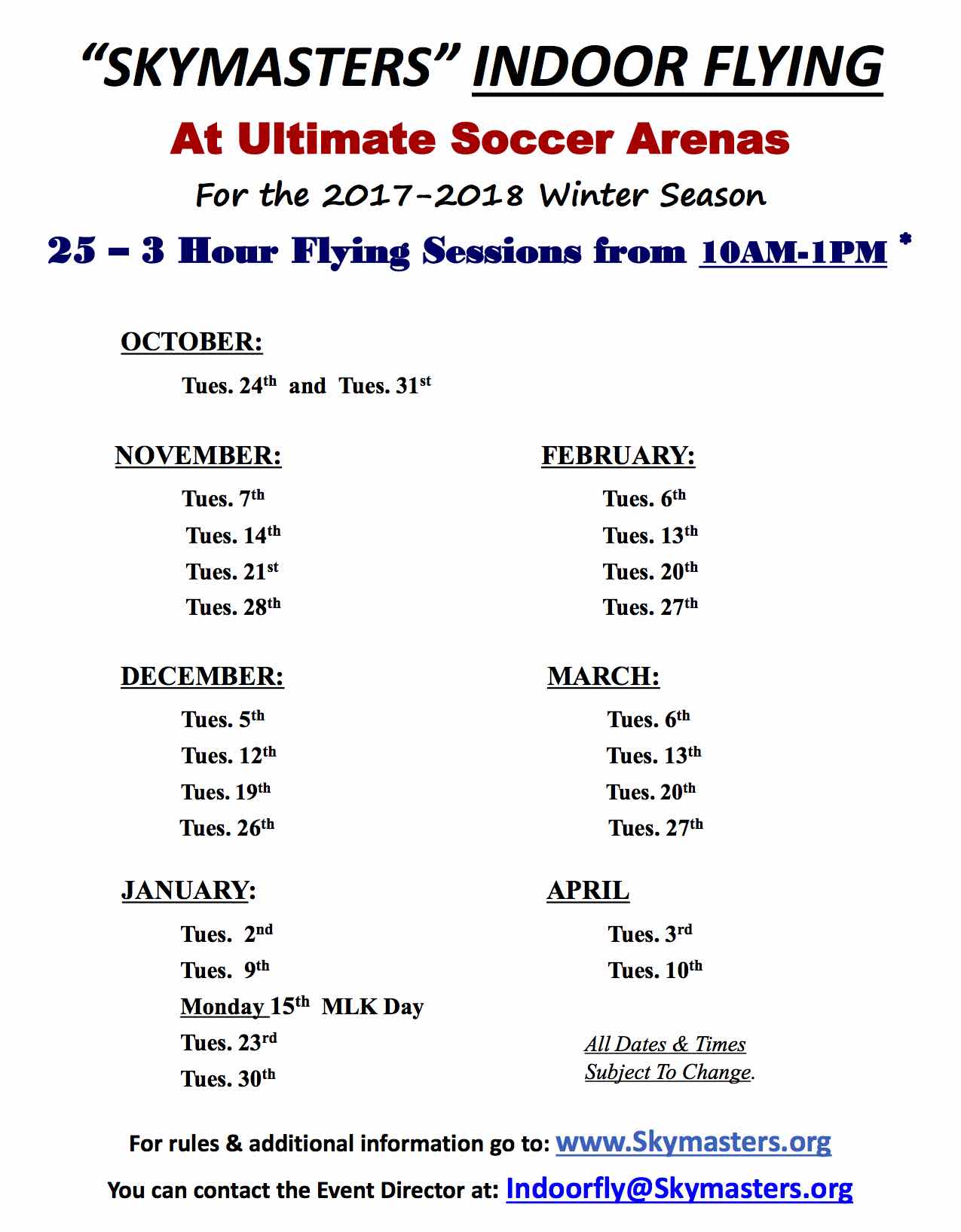 Return to "What's In This Issue"
Indoor Flying At the Legacy Center
There is indoor flying at the Legacy Center on Wednesdays. The Legacy Center is located at 9299 Goble Dr., Brighton, MI 48116. The flying time is from 12:30 p.m. to 2:30 p.m. The cost is $10 per drop-in session or $150 for a seasonal membership.
We are so very fortunate to have TWO great indoor facilities in our 'backyard'.
Enjoy them both.
Return to "What's In This Issue"
34th Annual Mid-America Electric Flies 2018
AMA Sanctioned Event
Saturday, July 14 & Sunday, July 15
Hosted by the:
Ann Arbor Falcons, Electric Flyers Only and Midwest RC Society
The 7 Mile Rd. Flying Site, Salem Twp., MI, is Provided by the:
Midwest R/C Society
Contest Directors are:
Ken Myers, phone (248) 669-8124 or
kmyersefo@theampeer.org
for updates & info
Keith Shaw (734) 973-6309
Flying both days at the Midwest R/C Society Flying Field - 7 Mile Rd., Salem Twp., MI
Registration: 9 A.M. both days
Flying from 10 A.M. to 4 P.M. Sat. & 10 A.M. to 3 P.M. Sunday
Pilot Entry Fee: 18 and over, $15 Sat. - $10, Sunday, (ask about the family rate),
Under 18, FREE
Parking Donation Requested from Spectators
Saturday's Awards
Best Scale
Most Beautiful
Best Ducted Fan
Best Sport Plane
New Foam Flurry for NCM Aircraft
CD's Choice
Sunday's Awards
Best Scale
Most Beautiful
Best Mini-Electric
Best Multi-motor
New Most Unique NCM Aircraft
CD's Choice
Planes Must Fly To Be Considered for Any Award
Saturday's & Sunday's Awards:
Plaques for 1st in each category
Open Flying Possible on Friday
Night Flying Possible, Weather Permitting,
Friday & Saturday Nights
Refreshments available at the field both days.
Potluck picnic at the field on Saturday evening.
Come and join us for two days of fun and relaxed electric flying.
Come, Look, Listen, Learn - Fly Electric - Fly the Future!
Merchandise drawing for ALL entrants
Special Events for this year for NCM (Not Conventional Materials) aircraft.
Traditionally, model aircraft airframes have been mostly constructed from balsa wood, plywood, spruce, and fiberglass. For the purposes of this meet, NCM airframes are mostly constructed from not conventional materials i.e.; sheet foam, foam board, cardboard, block foam, foam insulation material, etc.
Foam Flurry for NCM aircraft: This is a true event. It is based upon the all up/last down event of early electric meets. Any NCM aircraft may be used (no ARF types). Power systems are limited to a maximum of 3S (no paralleling) LiPo batteries or 4S maximum, no paralleling, for A123 packs. All planes qualifying for this event will launch at the same time, and the last one to land will be declared the winner.
Most Unique NCM Aircraft Award: An award will be given on Sunday to an aircraft in the NCM category that is judged as 'most unique' by the Mid-Am panel of judges.
* * * * *

Also This Year!
The Priceless Sale & Open Air Tailgate Swap Meet
Return to "What's In This Issue"
Some Photos or Our Models by Bob Boulware
Bob is the gentleman that comes to our field with his camera. Here are a few shots he wants to share.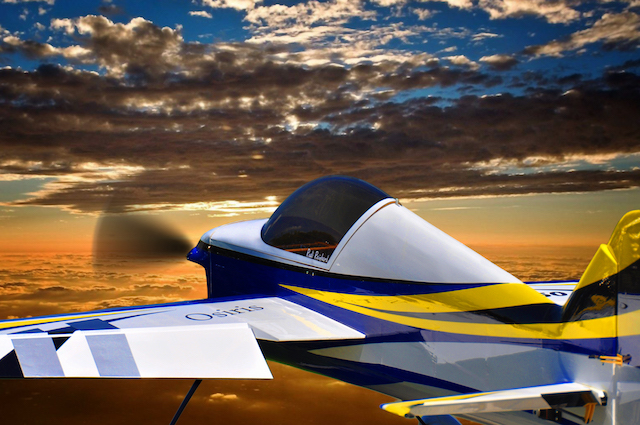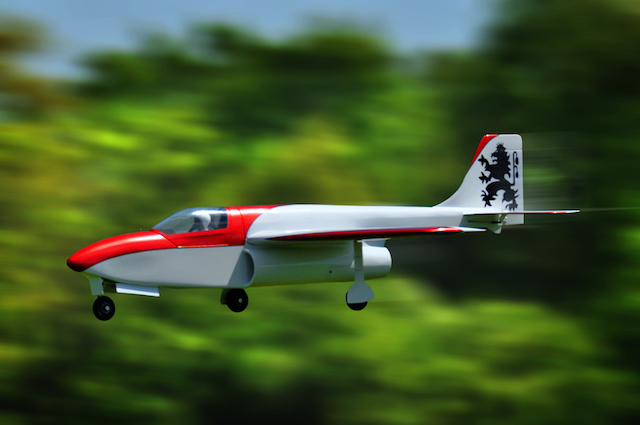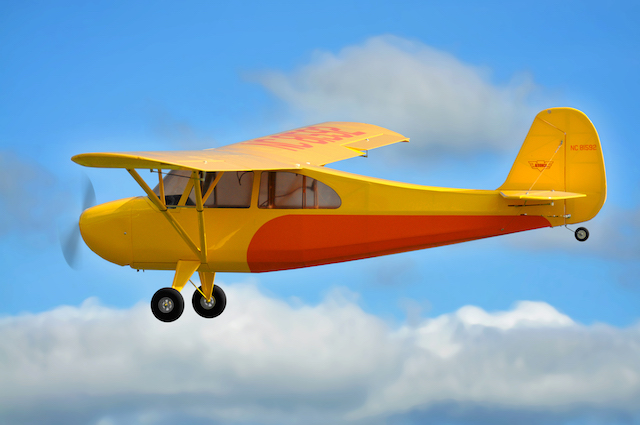 Return to "What's In This Issue"
To Reach Ken Myers, you can use the US Postal Service to the address on the site homepage.
Ken's email address: kmyersefo@theampeer.org
Electric Flyers Only (EFO) Web Site: www.theampeer.org