Tuesdays, Skymasters' Winter Indoor Flying, 2016/2017 Season
Ultimate Soccer Arenas, 867 South Blvd., Pontiac, MI 48341
10 a.m. -1 p.m.
Winter Season Pass is $110 for the 25 sessions. It's our Best Deal.
5 - Session Punch Card $35
Single Flying Session $10, only available at the door
On-line registration is open now for the Season Pass and Punch Cards. You must have a current AMA to register.
Here is a link. Just scroll down the page and click on *Online Registration Open*.

Wednesdays, Indoor Flying at the Legacy Center, 9299 Goble Dr, Brighton, MI 48116, 12:30 p.m. - 2:30 p.m., November 2 - March 29

April 3, Monday, Hobbico Pre Toledo Show visit, Ultimate Soccer Arenas, 7 p.m. - 9 p.m., no admission, everyone welcome, the program will take place upstairs on the mezzanine of Ultimate Soccer Arenas near Field 2 and the bar. We will be using Field 2 for product demos!
and
April 4, Tuesday, during the indoor flying from 10 a.m. - 2 p.m., no cost if you are not flying, regular session cost to fly

April 7, 8 & 9 The 63rd Toledo RC Expo, SeaGate Centre, 401 Jefferson Ave, Toledo, OH 43604

April 12, Wednesday, EFO meeting, 7:30 p.m., Ken Myers' house. Everyone with an interest is welcome.

May 20 & 21 Radio Control Club of Detroit's 12th Annual All Electric Fly-In, Watts over Wetzel (Wetzel State Park), large number of pilots, awesome flying site, Great food, Raffles and prizes, email the contest director, John McCormick, for more details or visit the RCCD Web site.

Upcoming Keith Shaw Birthday Party Electric Fly-in 2017
From CD Dave Grife via Email

The Balsa Butchers are hosting the "Keith Shaw Birthday Party Electric Fly-In", for the 16th year, at their field near Coldwater, MI. The event takes place on Saturday, June 3, 2017. It is a one day event again this year.

The event consists of Open Electric Flying with a "Special Guest of Honor Theme".

Enjoy a day with the "Pioneering Master of Electric R/C Flight". 8 am - 5 pm Saturday, $15 landing fee.

For additional information contact;
Dave Watson 517-250-6190 or flybuddy619@yahoo.com
Contest Director: Dave Grife - E-mail:
grifesd@yahoo.comor Phone: 517-279-8445
Please e-mail or call with any questions.

The field will be open for guests to fly on Sunday as well.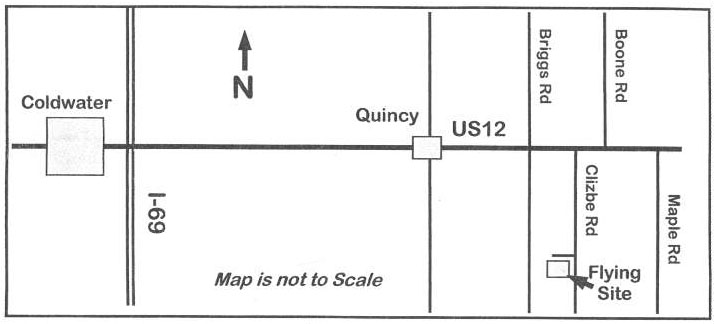 Directions: Quincy is approximately 4.5 miles east of I-69. Clizbe Road is approximately 1.6 miles east of Quincy. The Flying site is approximately 1.5 miles south of US-12 on the west side of Clizbe Road.
July 8 & 9, Saturday and Sunday 33rd Annual Mid-America Electric Flies (the Mid-Am)
Event Flyer
Hotel List and Map to the flying site