May 28 "John's Jets", at Pontiac Miniature Aircraft Club (No further info available)

Upcoming Keith Shaw Birthday Party Electric Fly-in 2017
From CD Dave Grife via Email

The Balsa Butchers are hosting the "Keith Shaw Birthday Party Electric Fly-In", for the 16th year, at their field near Coldwater, MI. The event takes place on Saturday, June 3, 2017. It is a one day event again this year.

The event consists of Open Electric Flying with a "Special Guest of Honor Theme".

Enjoy a day with the "Pioneering Master of Electric R/C Flight". 8 am - 5 pm Saturday, $15 landing fee.

For additional information contact;
Dave Watson 517-250-6190 or flybuddy619@yahoo.com
Contest Director: Dave Grife - E-mail:
grifesd@yahoo.comor Phone: 517-279-8445
Please e-mail or call with any questions.

The field will be open for guests to fly on Sunday as well.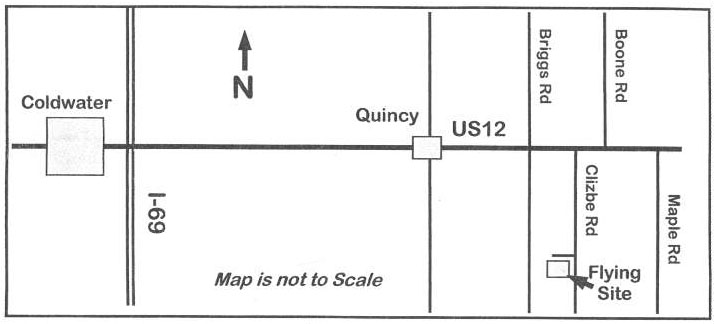 Directions: Quincy is approximately 4.5 miles east of I-69. Clizbe Road is approximately 1.6 miles east of Quincy. The Flying site is approximately 1.5 miles south of US-12 on the west side of Clizbe Road.
June 10, Saturday, EFO flying meeting, 10:00 a.m., Midwest RC Society 7 Mi. Rd. Flying Field. Everyone with an interest is welcome. Proof of AMA membership required to fly.
July 8 & 9, Saturday and Sunday 33rd Annual Mid-America Electric Flies (the Mid-Am)
Event Flyer
Hotel List and Map to the flying site
August 25 (Friday) & 26 (Saturday)
When: Friday August 25 4:00 pm - 9:00pm and Saturday August 26 from 9:00 am to 9:00 pm
Pilot and Aircraft Requirements:
Current AMA - Open to All RC Electric planes, helicopters, and multicopters.
Best two runways in Mid-Michigan
Practice FPV Multicopter Course on N/S runway open on Friday and Saturday from 4:00-9:00 pm
Pilot Raffle on Saturday
Pizza, pop, and water available on Saturday
Spectators Welcome
Landing Fees:
$15 (includes Pilot Pizza & Soda )
CD Marv Thomson 517-8027675 or mthomson@wowway.com
Website: www.cardsrc.com
Address: 8328 Otto Rd, Grand Ledge, Mi 48837