TUESDAYS, indoor flying at the Ultimate Soccer Arenas, 867 South Blvd, Pontiac, MI.
Sponsor: Skymasters
Indoor Electric Flying at Ultimate Soccer Arenas, most Tuesdays starting on Oct. 24th 2017 thru April 10th, 2018
Time: 10:00 AM - 1:00 PM
Online registration, schedule and indoor flying rules available on line now. Pilots must have current AMA membership.
Season Pass for the 25-3hr sessions $110, 5-session Punch Card $35, Single Flying Session (only available at the door) $10. Spectators welcome free.
Contact: Fred Engleman, Phone: (248) 770-3239 or Email: indoorfly@skymasters.org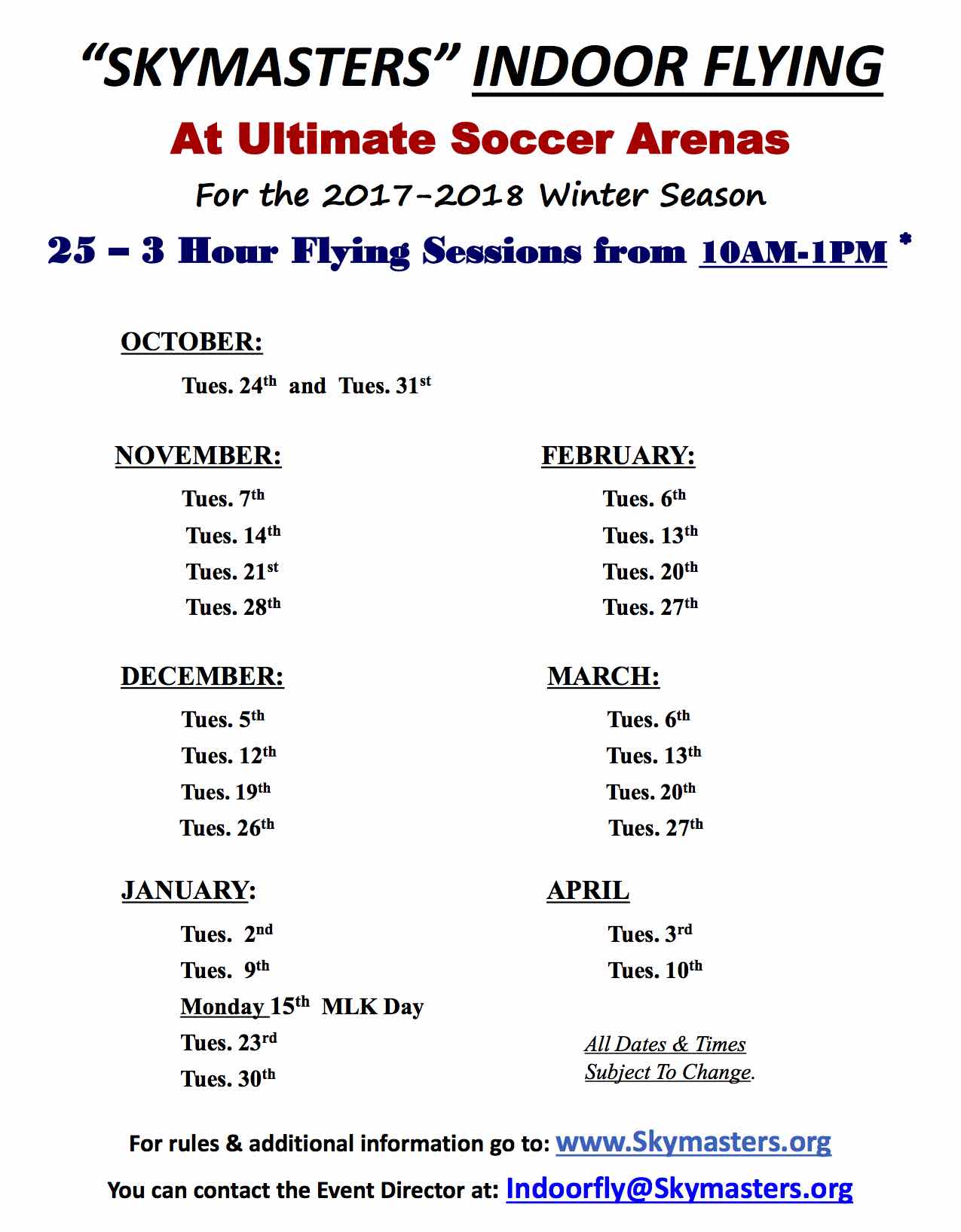 Wednesdays, indoor flying at the Legacy Center, 9299 Goble Dr., Brighton, MI 48116. Flying time: 12:30 p.m. to 2:30 p.m., The cost is $10 per drop-in session or $150 for a seasonal membership.
Saturdays, Feb. 10 - March 3 Flightline Hobby's NO CHARGE educational modeling seminars from 11:05 AM until 12:30 PM on Saturdays. Flightline Hobby, 3039 South Baldwin Rd., Lake Orion, MI 48539, 248-814-8359, Coffee and Donuts, No Charge to attend, Call 248-814-8359 or write John with questions.
February 14 Wednesday, EFO monthly meeting, 7:30 p.m., Ken Myers' house, 1911 Bradshaw Ct., Commerce Twp., MI 48390, 248.669.8124
Anyone with an interest is welcome.
February 17, Saturday, Flightline Hobby seminar; All About Soldering
February 24, Saturday, Flightline Hobby seminar; Creating Realistic Pilot Figures
March 3, Saturday, Flightline Hobby seminar; Making Bomb Drop Mechanisms
April 6, 7 & 8, Friday, Saturday & Sunday, Weak Signals R/C Model Expo, SeaGate Centre, 401 Jefferson Ave, Toledo, OH 43604. For more information visit www.toledoshow.com/
June 2, Saturday, Keith Shaw Birthday Electric Fly-in, Quincy/Coldwater, MI, details to follow.
June 9, Saturday, Skymasters Night Fly-in for electrics and
June 10, Sunday, Skymasters Electric Fly-in, details to follow
July 14 & 15, Saturday and Sunday, 34th Annual Mid-America Electric Flies, details to follow.