TUESDAYS, indoor flying at the Ultimate Soccer Arenas, 867 South Blvd, Pontiac, MI.
Sponsor: Skymasters
Indoor Electric Flying at Ultimate Soccer Arenas, most Tuesdays starting on Oct. 24th 2017 thru April 10th, 2018
Time: 10:00 AM - 1:00 PM
Online registration, schedule and indoor flying rules available on line now. Pilots must have current AMA membership.
Season Pass for the 25-3hr sessions $110, 5-session Punch Card $35, Single Flying Session (only available at the door) $10. Spectators welcome free.
Contact: Fred Engleman, Phone: (248) 770-3239 or Email: indoorfly@skymasters.org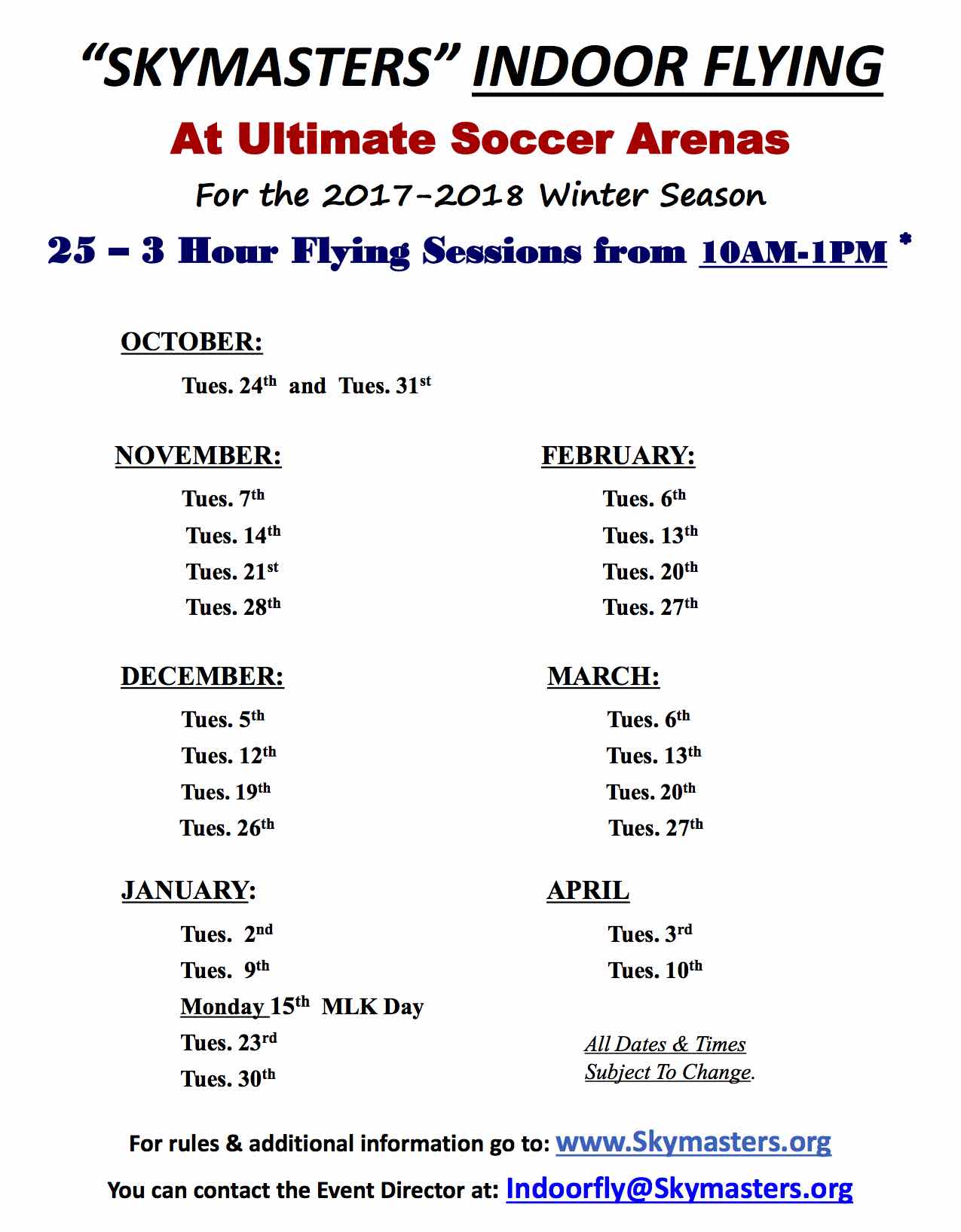 December 13, Wednesday, EFO monthly meeting, 7:30 p.m., Ken Myers' house, Commerce Twp., MI, Anyone with an interest is welcome.
February 3, 2018, Saturday
Hamburg Flyers R/C Club Swap Meet
Location: Whitmore Lake Elementary School
1077 Baker Rd.
Whitmore Lake, MI
Time: 9 a.m. to 1 p.m.
Admission: $5 for adults
Ladies, children unter 15 and active military - FREE
Food & Refreshments Available
Door Prizes
50/50 Raffle
Vendor Information
Vendor tables are $20 & $25 along the wall
Some 6' tables available for $15. Total 60 tables. Set-up at 8AM Feb. 3rd
Table Reservations
E-mail hamburgflyers@gmail.com
or
Visit the Hamburg Flyers Web site. Use the Swap Meet Sign-up widget in the lower right corner.
You can also leave a message at (734)-436-1359 (Be sure to leave a message, calls will not be returned unless a message is left!)
Reserve now!! Any available tables will be $5 additional at the door. DEALERS WELCOME.
Pete DeMoss & Tom Blaszak, CD
Hamburg Flyers R/C Club