Tuesdays, Skymasters' Indoor Flying 2017 Season
Ultimate Soccer Arenas, 867 South Blvd., Pontiac, MI 48341
10 a.m. -1 p.m.

Thanks from Skymasters:
To all the Pilots who assisted us each week in setting up the field, working at the registration table, helping out new pilots, and then tear down at the end of each day. It takes a lot to put on this event for 25 weeks and it could not be done without all of you.

To our sponsors - The Prop Shop, Nankin Hobby Shops, Flightline Hobby, PMAC, Iris Cafe, Old Detroit Bar and Grille, and M & B Graphics, Lake Orion.

To Ultimate Soccer Arenas the best indoor flying venue in Michigan.

From what I can tell, Skymasters has the largest weekly indoor flying event in the country averaging over 70 R/C Pilots flying per week. That's over 12,000 pilot flying sessions since indoor flying began at Ultimate in 2009. Wow! Special Thanks to all those pilots, You make this a GREAT EVENT!

NOTE: even though the winter indoor sessions will end this week (April 11) we will continue fly this spring at Ultimate through the end of April, and maybe longer, if interest remains high enough for a cost of $8 per session for all pilots.

May 13, Saturday, EFO flying meeting, 10:00 a.m., Midwest RC Society 7 Mi. Rd. Flying Field. Everyone with an interest is welcome. Proof of AMA membership required to fly.

May 20 & 21 Radio Control Club of Detroit's 12th Annual All Electric Fly-In, Watts over Wetzel (Wetzel State Park), large number of pilots, awesome flying site, Great food, Raffles and prizes, email the contest director, John McCormick, for more details or visit the RCCD Web site.

May 28 "John's Jets", at Pontiac Miniature Aircraft Club (No further info available)

Upcoming Keith Shaw Birthday Party Electric Fly-in 2017
From CD Dave Grife via Email

The Balsa Butchers are hosting the "Keith Shaw Birthday Party Electric Fly-In", for the 16th year, at their field near Coldwater, MI. The event takes place on Saturday, June 3, 2017. It is a one day event again this year.

The event consists of Open Electric Flying with a "Special Guest of Honor Theme".

Enjoy a day with the "Pioneering Master of Electric R/C Flight". 8 am - 5 pm Saturday, $15 landing fee.

For additional information contact;
Dave Watson 517-250-6190 or flybuddy619@yahoo.com
Contest Director: Dave Grife - E-mail:
grifesd@yahoo.comor Phone: 517-279-8445
Please e-mail or call with any questions.

The field will be open for guests to fly on Sunday as well.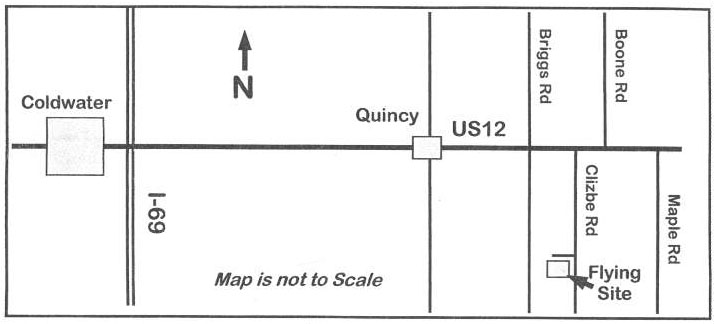 Directions: Quincy is approximately 4.5 miles east of I-69. Clizbe Road is approximately 1.6 miles east of Quincy. The Flying site is approximately 1.5 miles south of US-12 on the west side of Clizbe Road.
July 8 & 9, Saturday and Sunday 33rd Annual Mid-America Electric Flies (the Mid-Am)
Event Flyer
Hotel List and Map to the flying site