July 22, Saturday, Electrics Over White Lake presented by the Pontiac Miniature Aircraft Club (PMAC) at their flying field in White Lake, Mi, Map to flying field available on the PMAC Web site, registration 1 p.m., flying 1:30 p.m. - 6 p.m.

Awards for top two places in each category; Best Scale, Best Ducted Fan, Best Sport Plane, and Pilots' Choice
Planes must fly to be considered for an award

Join us for a day of fun and relaxed Electric Flying! Even through this is called a contest, the purpose is fun and enjoyment in sharing the electric experience!

Food and Beverages are available throughout the day
NO LANDING FEE
AMA membership required for all pilots
P.A. Announcer
Daily/Yearly State Park Pass Required
400' maximum altitude

Come Look, Listen & Learn
Fly Electric ~ Fly the Future

CD: email Hank Wiledman for more info

August 2, Wednesday, MRCS flying meeting, 6 p.m. or earlier, the early birds get the best parking, at the 7 Mi. Rd. flying field. Everyone with an interest is welcome. Proof of current AMA membership is required to fly.

August 25 (Friday) & 26 (Saturday), CARDS of Lansing, Electric Fly-in
When: Friday August 25 4:00 pm - 9:00pm and Saturday August 26 from 9:00 am to 9:00 pm

Pilot and Aircraft Requirements:
Current AMA - Open to All RC Electric planes, helicopters, and multicopters.
Best two runways in Mid-Michigan

Practice FPV Multicopter Course on N/S runway open on Friday and Saturday from 4:00-9:00 pm

Pilot Raffle on Saturday, Pizza, pop, and water available on Saturday

Spectators Welcome

Landing Fees:
$15 (includes Pilot Pizza & Soda )

CD Marv Thomson 517-8027675 or mthomson@wowway.com

Website: www.cardsrc.com

Address: 8328 Otto Rd, Grand Ledge, Mi 48837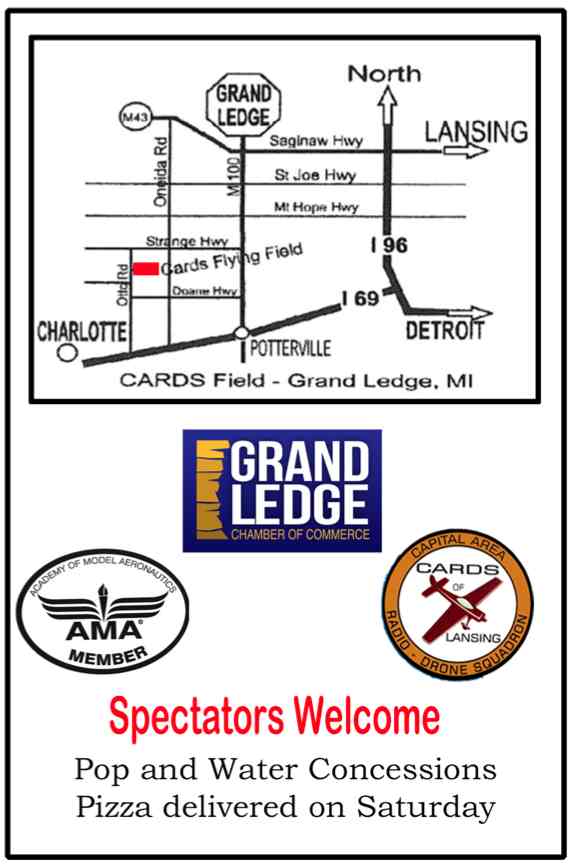 November 5, 2017, Midwest RC Society 29th Annual RC Swap Meet

9 a.m. to 12 p.m.
Location
Northville Senior Community Center
303 West Main Street
Northville, MI

Admission Charge
$5.00 per person
(Active duty military, kids under 12, and women are admitted for FREE)

Vendor Table Cost
$20 - $25 per table, depending on location
The vendor table cost includes one admission
Vendor set up time is 8 a.m.
Advance table reservations are highly recommended
Last year all tables were sold out in advance!

For Information
Call: Rudi Reinhard 248-631-8205
Email Rudi

Directions
Take the 8 Mile Rd. exit off of I-275 and go west for 2.5 miles on 8 Mile to Center Street.
Go south on Center Street for 0.5 miles and then west on Main Street.
The Northville Senior Community Center is located at 303 West Main Street in downtown Northville.
There is free parking in the back of ht the building, off of Cady Street.

THIS IS ALWAYS THE BEST & LARGETST SWAP MEET IN SE MICHIGAN!